What is G7 Compliance?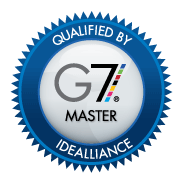 G7 Compliance is a status that doesn't come easy. In the United States there are only 1027* Master Printers listed on the IDEAlliance® website alone, in Florida PrimeNet is one of only 23* of those printers. If it was easy, everyone would be doing it.
Having this compliance documentation includes us in an elite group of printers which are integral to clients in need of very fine-tuned printing specifications. It allows for growth that many printers will not be able to accommodate, which is why this compliance is sought out by commercial business to protect brand integrity.
G7 Simplified:
G7 is simply defined as "a repeatable process across all output devices".
All of the technical explanations are great for those working in the printing industry, but how shall we explain G7 to our busy clients who may not have the time to learn all of the technical printing 'jargon'?
To put it simply, G7 can be compared, in layman's terms, to hitting a bullseye on a dartboard. As long as a press can stay within that circle, it's considered a PASS. If there is more than one press, and one of them hits that target dead center, that would be excellent. If both hit it dead center, that would be next to impossible.
So, the next best thing is to try to hit as close to that center as possible, with every press, every time. Every output device behaves a little differently due to factors like climate, consumables, press age, condition and many other challenging factors. IDEAlliance recognizes this and has done extensive testing to