By Julie Fleming, Information Technology
PrimeNet Direct Marketing Solutions definitely has a huge advantage when it comes to Hurricane Season in Florida, and here's why: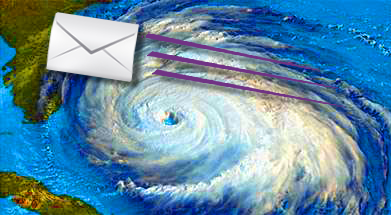 Direct Mail vs. Florida's Hurricane Season:
PrimeNet, 10 : Weather, 0. Hurricane Season is arriving once again on the East Coast. Running from June 1st to November 30th each year, hurricanes and tropical storms can wreak havoc once they make landfall, damaging homes and businesses, uprooting trees, tossing around structures and spawning powerful tornadoes which can destroy any (unprepared) thing in their path. They can cause widespread power outages, internet outages, and utility outages forcing businesses to close up shop for awhile, and the list goes on. Hurricanes are absolutely not our friend when it comes to our coexistence. But the good news is:
We take our direct mail business very seriously at PrimeNet, and are highly prepared for whatever nature decides to toss our way.
Our facility in Florida was built to tall-order specifications and is Category 3 protected, with our data center inside the facility reinforced to Category 5 protection. Our Data Center is housed in an enclosed structure within the Florida facility, and has a hefty power supply backed up by well-maintained onsite generators. Our data centers in both Largo, Florida and Shakopee, Minnesota, which back up each other, are constructed of poured concrete reinforced by rebar, filled with a special waterproof material and are finished with an additional layer of water resistant material for ultimate weather protection. Watch a short video on our Data Centers here.
We know your direct mail message is important, and with our secure data centers and facilities we at PrimeNet Direct Marketing Solutions have ensured that we won't let weather slow us down.

Some Hurricane Facts:
The usual Atlantic hurricane season runs from June 1 to November 30. The areas covered include the North Atlantic Ocean, Gulf of Mexico and the Caribbean Sea.

The National Weather Service defines a hurricane as "an intense tropical weather system with well-defined circulation and sustained winds of 74 mph (64 knots) or higher."

Hurricanes are rated according to intensity on the Saffir-Simpson Hurricane Wind Scale. A 1-5 scale estimating potential property damage.

A Category 3 or higher is considered a MAJOR hurricane.

The National Hurricane Center advises on how to be prepared.


A hurricane watch indicates the possibility that a region could experience hurricane conditions within 48 hours. A hurricane warning indicates that sustained winds of at least 74 mph are expected within 36 hours.

Just for Knowledge:
As of May 24th, 2018, the NOAA Climate Prediction Center states that forecasters in the USA expect this 2018 Atlantic hurricane season to be "near-normal" to "above-normal" in storm quantity and intensity.
It's estimated that between one & four MAJOR hurricanes (sustained winds of 111+ mph/178.6 kph) could develop during the 2018 Atlantic hurricane season, which begins June 1. The NOAA forecast also states that approximately half of the 10-16 named storms will be of hurricane strength (winds of at least 74 mph/119 kph).
The typical Atlantic hurricane season produces 12 named storms of which six become hurricanes; three major.
The first named storm of the year, Subtropical storm Alberto, made landfall on May 28th, 2018 at the Florida panhandle near Laguna Beach, FL with maximum sustained winds of 45mph/72kmh).
Hurricane Names:
Atlantic hurricane and tropical/subtropical storm name lists repeat every six years, unless one is so devastating that a committee of the World Meteorological Organization votes to retire and replace that name for the future.
Hurricane names for 2018 are:
Alberto, (formed in May, and is included in the seasonal forecast numbers in the outlooks) Beryl, Chris, Debby, Ernesto, Florence, Gordon, Helene, Isaac, Joyce, Kirk, Leslie, Michael, Nadine, Oscar, Patty, Rafael, Sara, Tony, Valerie, William
---
2017 Hurricane Information Comparison:
As of June 1st, 2017, The Tropical Meteorology Project at Colorado State University has made the prediction that the 2017 hurricane season will have "near to slightly above-average activity" calling for an above-average number of named storms with 14 expected. CSU forecasts an average number of hurricanes this year, with six expected in the Atlantic Basin. A below-average number of approximately just two major hurricanes is also anticipated.
In May of 2017, the National Oceanic and Atmospheric Administration (NOAA) issued its forecast at the end of the month and called for:
– Eleven to 17 named storms – including April's Tropical Storm Arlene.
– Five to nine of which would become hurricanes.
– Two to four of which would become major hurricanes.
Hurricane names for 2017 were:
Arlene, (formed in April, and was included in the seasonal forecast numbers in the outlooks)
Brett, Cindy, Don, Emily, Franklin, Gert, Harvey, Irma, Jose, Katia, Lee, Maria, Nate, Ophelia, Philippe, Rina, Sean, Tammy, Vince, Whitney
Hurricane names for 2016 were:
Alex, January 14, 2016 (the first hurricane to form in January since 1938)
Bonnie, Colin, Danielle, Earl, Fiona, Gaston, Hermine, Ian, Julia, Karl, Lisa, Matthew, Nicole, Otto, Paula, Richard, Shary, Tobias, Virginie, Walter
Feel free to check out our tips for your business to stay prepared.
Interesting info? Share it!