JUNE 1, 2016 | LARGO, FL | Idealliance G7 Master Qualification – PrimeNet Direct Marketing Solutions, a renowned print service provider headquartered in Largo, Florida has achieved G7 Master Qualification, awarded by Idealliance®, a not-for-profit industry group dedicated to guiding print production best practices, specifications, and standards, worldwide. PrimeNet joins a select group of print service providers who have successfully completed training, examination and qualification process of their print production processes, validating their capabilities to the highest level of global industry standards and specifications.
G7 is Idealliance's industry-leading set of best practices for achieving gray balance and is the driving force for achieving visual similarity across all print processes. The application of this method enables printers to reproduce a similar visual appearance across all printing types and substrates.
PrimeNet offers full-service direct mail marketing with expertise in data analytics, list management, variable data, commercial printing, mail processing, online order entry and program support utilizing equipment: Xerox iGen4 Full Color Variable Data/Graphics Printer – Five Color Sheet Fed Heidelberg Press – Four Color Sheet Fed Heidelberg Press – Five Color Diddi Offset Press – Xerox HLC128 Highlight Color Sheet Fed Laser Printers – Xerox DT6180 Laser Printer – Two Color Halm Jet Offset Press – and Continuous Form Impact Printer, among others.
Already an efficient print provider, PrimeNet looked to Certified G7 Expert, Alan Coggins and the Idealliance G7 Master Program, to achieve further productivity gains to better serve its customer's objectives for brand color quality and control.
"We applaud PrimeNet for utilizing the G7 Master Program to assure consistency and quality in their proofing, brand color management and print processes," commented Steve Bonoff for Idealliance. "G7 Master Qualification demonstrates a level of control and expertise that places PrimeNet at the top of their field. We applaud their leadership, commitment and support of the G7 Master Qualification Program."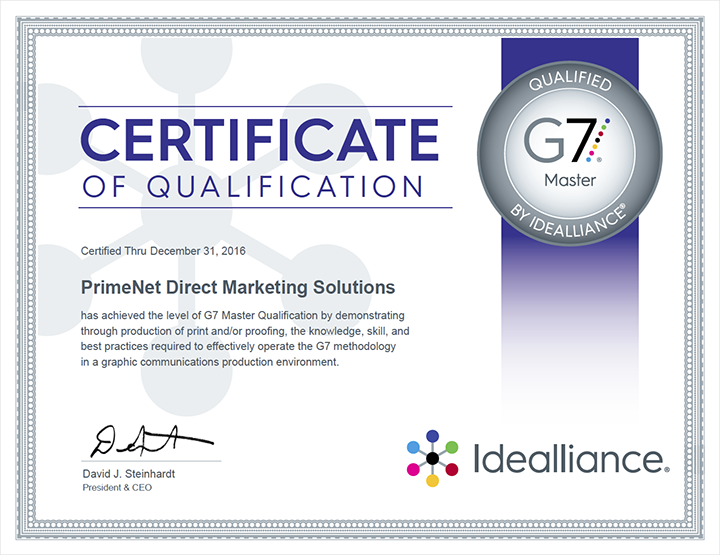 ---
About PrimeNet Direct Marketing Solutions
PrimeNet has the technology and experience to create highly effective direct mail campaigns for businesses all over the United States. Established in 1962, and bearing a strong National presence, PrimeNet is one of the Top Ten Florida-based National printers.
"With our intelligent technology and state of the art presses, we're able to provide the quality, repeatability and capacity necessary to meet the high printing standards and quick turnaround requirements of our clients. We have on staff, experienced professional account managers and creative designers who will assess marketing goals and make direct mail campaign recommendations based on the needs of the business."
About Idealliance
Idealliance® – Where media creators and technology communities collaborate to craft best practices, advance standards, and certify people, processes, and systems to achieve the highest performance in creation, production and delivery of graphic communications.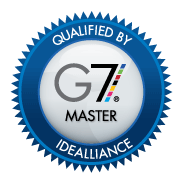 ---
For additional information, please read our article: "What is G7 Compliance?"
Interesting info? Share it!