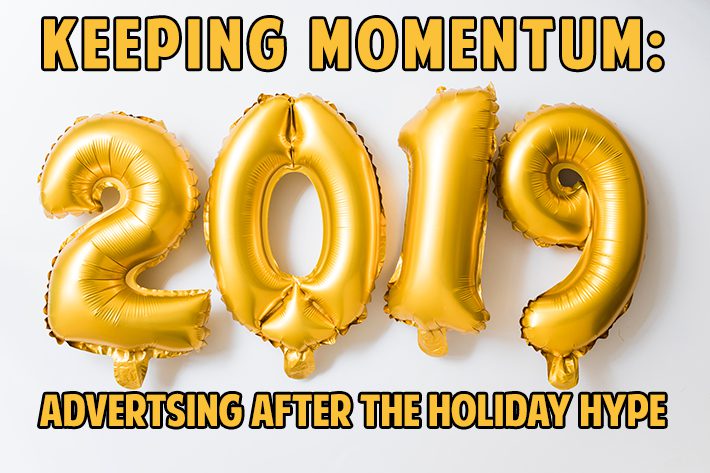 So, you've had great success with your Fall Savings, Thanksgiving Deals, Black Friday Blowouts, Holiday Specials, and End-of-Year Extravaganzas, but now it's January and the "Holiday Hype" has come to an end. You may be wondering–what now? Although the 4th quarter can account for more than half of a business's profits for the year, it is important to keep that momentum continuing into the new year. Continue reading to discover 5 useful tips to allow your business to have a successful January leading into a wonderful 2019!
Appeal to the "New Year, New Start" Mentality
The new year is traditionally the time for making a new start, breaking bad habits and forming good ones. Using those themes in your marketing strategies for January can be pertinent to keeping up your current momentum. Don't limit yourself to self-improvement for people; this can also apply to businesses. For example, if you sell office supplies, advertise those supplies as a way a business can organize for a successful upcoming year. The new-start idea is also applicable to renovating a home, learning a new skill, or starting a hobby.
Discount Old Inventory
Shoppers have come to expect just one thing from retailers after the holidays: clearance. So think about additional ways to promote post-holiday buying.
By offering up-sells, you can prompt more shoppers to reach thresholds on purchase amounts. You could also offer volume pricing or bulk buying discounts. This works well on smaller items that can be used as supply stock-ups or as simple gifts throughout the next year. And what about shipping? Flat-rate or free shipping still wins in ecommerce.
If you run a loyalty or rewards program you can offer incentives for January purchases to both new and existing customers. Double points are attractive, as are additional points for performing certain tasks. You might also want to discount gift cards or certificates to help build revenue more quickly.
Give Your Business a "Fresh Start"
Use the new year as an excuse to give yourself a fresh start as well. The beginning of a new year is the perfect time to revamp your data lists. Make sure that your lists are up-to-date to ensure that you aren't wasting effort (and money) reaching out to customers who have changed addresses, lifestyles, or are no longer in need of your services.
You can also take this opportunity to take a look back at all of the data you've been collecting and see what worked (and what didn't.) If you've noticed that a certain coupon seems to bring in more new customers, keep using that! If another direct mail piece hasn't seemed to have much of an impact, regroup and try again.
Try Something New
So you've looked at your past year and discovered what kind of ads have worked, and what haven't. Now is the perfect time to replace old, outdated ads with something new! PrimeNet is always coming up with new, innovative direct mail pieces that are sure to stand out against the crowd. Perhaps if you tend to stick with mailing out self-mailers, you can switch to postcards. Or try a new technique altogether–die cuts can be a creative way to capture attention.
Take Advantage of Upcoming Events
Although the holidays may be over, don't forget that there are always upcoming events that you can cash in on. In January, you can focus on winter sales, or fresh start savings. February brings the Super Bowl, Valentine's Day, and Presidents Day and after that you can start promoting "Spring into Savings" events. Anything can be marketed as a way to get customers interested in your products or services.
Overall, the point is to just keep going! Once you quit building momentum, it's hard to start again. If you use these tips throughout the year, your profits will continue to snowball– and the next thing you know, holiday season 2019 will be here!
Interesting info? Share it!