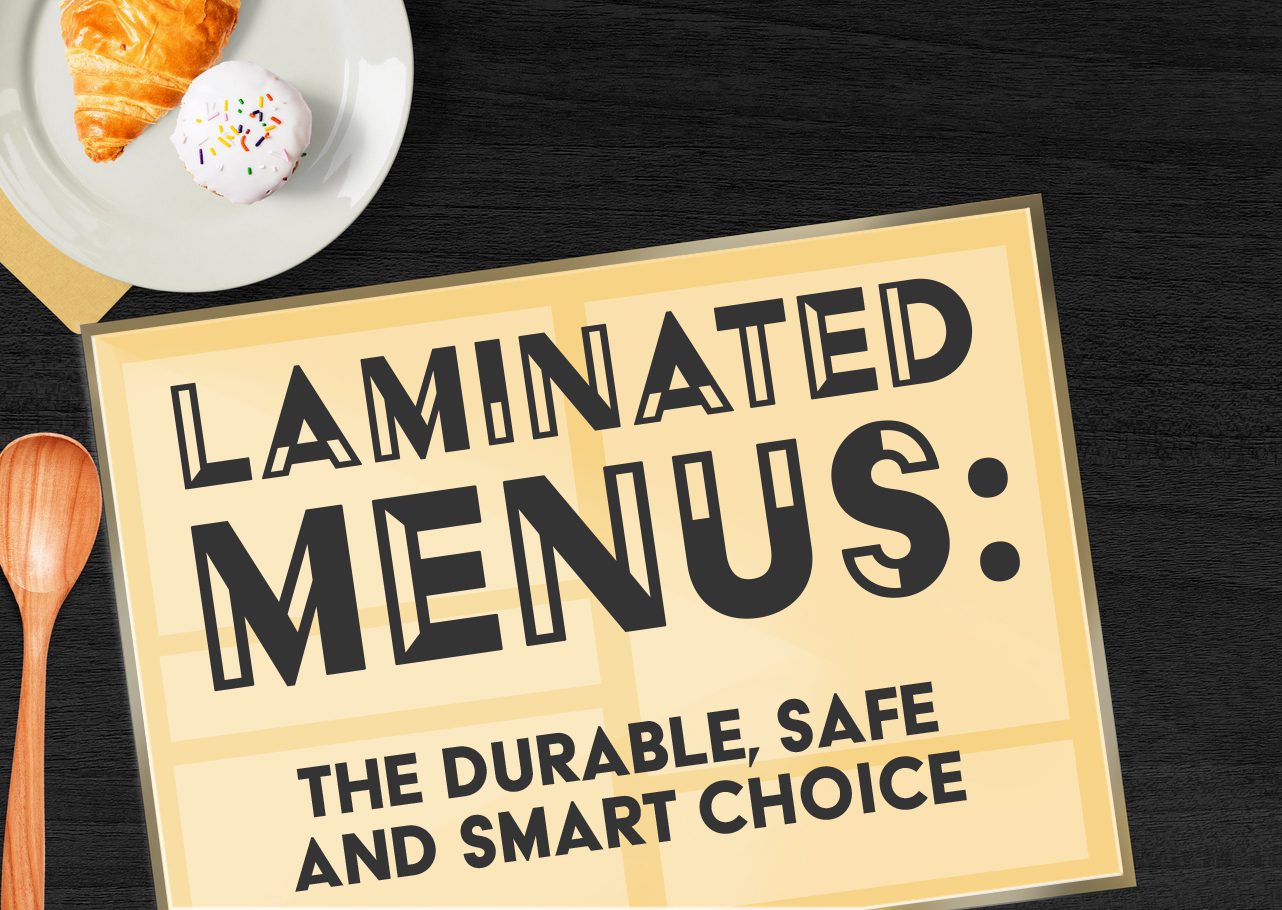 Whether you run a massage studio or a restaurant, nearly every business needs a menu – the place where you list all of your products or services. Your menu will leave a lasting impression on your customer, shouldn't it be a good one? Besides an attractive design, your menu should also be durable, professional-looking, and sanitary. One simple way to achieve all of the above is to go with a laminated menu option.
Why Should I Use Laminated Menus?
Longevity: Laminated menus last longer because lamination increases the durability of a piece. This will save you money on reprinting.
Durable: Laminated menus are protected against stains, smudges, spills, marks, oil, grease, dirt, moisture, and fingerprints. Laminated menus are nearly waterproof! So the next time a coffee gets spilled on your menu, you can just wipe it off instead of throwing it away.
Appearance: Laminate is a completely transparent material and will not impair or blemish your menu in any way. In fact, laminate enhances ink colors and makes pieces more vibrant. This will make the images on your menu appear even more appetizing.
Professionalism: Lamination thickens and strengthens printed material, creating an impression of higher quality and importance. Customers love to feel like they are important and that they are going to an establishment that invests in their products.
Sanitary: Laminated menus are easier to clean. This means that they can be sanitized! Decrease the spread of germs and bacteria in your business.
Why Stop at Laminating Menus?
Lamination is a great option for more than just your main menu. You can also provide guests with laminated drink menus and kids menus. This may be especially useful since kids are known for being a bit messy. You can even provide a laminated placemat for extra protection.
You can also use lamination with your advertising! Plastic postcards are a great option. Imagine your customers receiving an offer in the mail with a coupon or two with your business on it. Lamination will put you one step above the competitors! You could also provide take-out menus with a magnet attached. Now your food menu can be hung on a customer's fridge and they'll think of you any time the thought of cooking dinner that night seems too daunting.
Have to see it for yourself?

(Clicking the "Request Samples" image should open your default email client.
If it does not, please use the contact form.)
Call us today at 1-800-826-2869 to get started on your new laminated menus!
Interesting info? Share it!