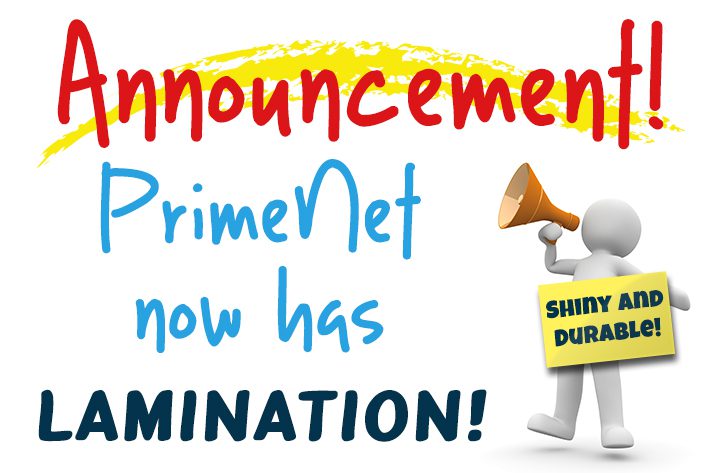 So what exactly is lamination? The laminating process bonds printed items between two pieces of clear, plastic film. This process has many uses and a variety of benefits.
What are the Benefits of Lamination?
Laminated pieces last longer because lamination increases the durability of a piece. This saves money on reprinting.
Laminated pieces are protected against stains, smudges, spills, marks, oil, grease, dirt, moisture, and fingerprints.
Laminate is a completely transparent material and will not impair or blemish the print in any way. In fact, laminate enhances ink colors and makes pieces more vibrant.
Lamination thickens and strengthens printed material, creating an impression of higher quality and importance.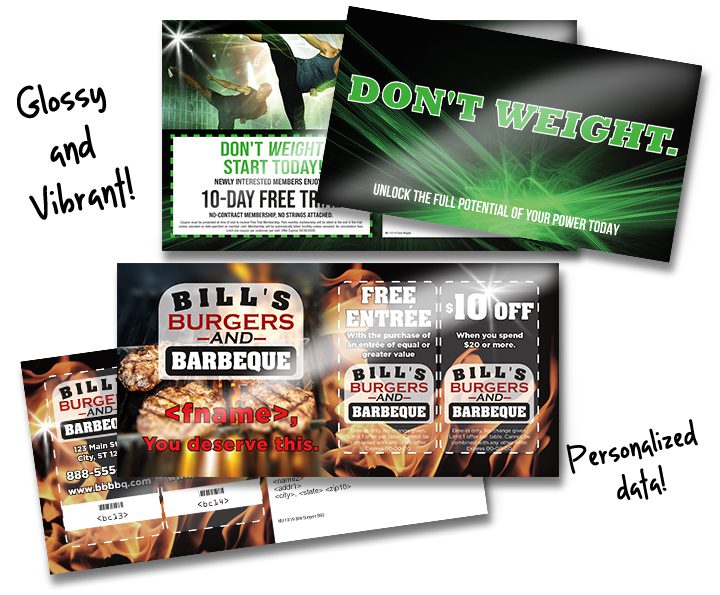 How Can I Use Lamination in Advertising?
Laminated mail pieces are glossy and vibrant! The laminate adds sheen and thickness to your mail piece. This means that it can break through mailbox clutter. A plastic postcard is eye-catching and different than the typical paper mailer.
Lamination makes printed documents look more finished and professional. This conveys value to the consumer.
Your direct mail piece has increased strength and durability. This means it can travel through the mail and arrive in excellent condition with no tears, wrinkles, or stains.
The increased durability of a laminated mail piece can also increase the longevity of a printed piece. This can be very helpful when you are providing something that you want people to keep around for a long time, such as: calendars, re-usable coupons, schedules, etc.
This durable format of direct mail also results in extended redemption cycles. You can provide coupons with a longer expiration date because the printed piece can handle the test of time. Glossy postcards won't tear or chip along the edge of the card.
Laminated direct mail can be highly personalized. Using variable data, you can include a consumer's name and other personal details about themselves. This will stand out to the consumer and make them feel important, this piece was made just for them!
Speaking of making the customer feel important, laminating a direct mail piece can do just that. Sending a highly personalized laminated postcard sends the message that you care about that customer's unique circumstances. Their business is worth more to you than just the average postcard on card stock.

What Else Can I Use Lamination For?
Lamination can be used for many purposes and for a variety of reasons. Below, you will find many common examples of popularly laminated pieces.
Lamination enhances the appearance and extends the life of frequently handled prints, such as…
Menus for Bars and Restaurants
Price Lists
Training Materials
Maps
Calendars
Health and Auto Insurance Cards
Fundraising Cards
Showroom and Trade show Display Materials
Lamination protects printed materials that are used in dirty or damp environments…
Product Warning Labels or Fact Sheets
Maintenance Procedures
Operating and Safety Instructions
Signs and Rules
Reusable Hang Tags and Door Tags

(Clicking the "Request Samples" image should open your default email client.
If it does not, please use the contact form.)
To learn more about how PrimeNet can offer lamination to benefit you, call us today at 1-800-826-2869!
Interesting info? Share it!