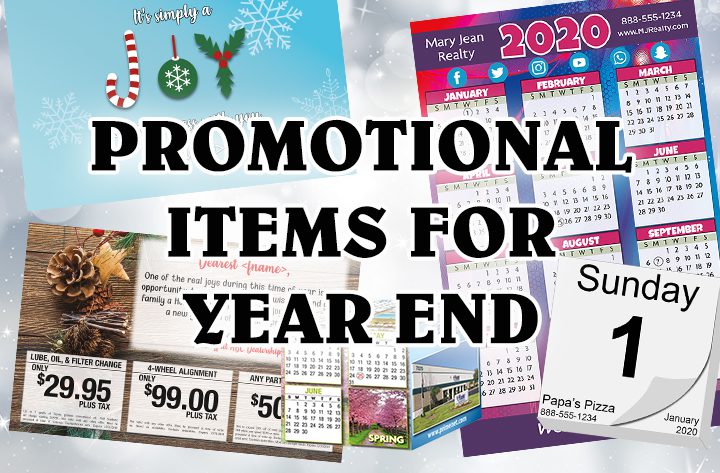 The end of the year is quickly approaching! While it may seem obvious to focus your efforts on things like Black Friday and Holiday sales, it is equally as important to make sure you start the new year off on the right foot. One way to do this is by giving a little "thank you" to your current customers, or a "nice to meet you" to potential clients with promotional items. Below, are 3 ideas to promote your business starting now and into the following year.
Promotional Calendars
Calendars are the perfect promotional item to hand out. Not only are calendars something that your customers can get use out of for the whole year, but it gives you the opportunity to share your business information wherever the calendar happens to be displayed. There are also endless possibilities with how creative you can be when customizing your business calendar. Laminated desktop calendars, daily tear-off calendars, and magnet calendars are just a few options that come to mind. Start customizing a promotional calendar for your business today!
⠀⠀
Holiday Cards
Holiday cards are a great way to tell your current customers that you appreciate them. A simple message showing that you appreciate their business can go a long way.
Additionally, sending out holiday cards to current (and prospective) customers with information on your newest promotion or coupons for them to save money on a new product can serve two purposes. The customer feels appreciated, and your business will receive sales from the offer you provided!
Another use for holiday cards is to send them out to other businesses that you have worked with throughout the year. Show them that you value your relationship, and hope to continue prosperously onto the next year.
PrimeNet has put together a template order process to make coming up with a holiday card design even simpler for you! Watch the video to see how we can put together your next holiday card!
⠀⠀
Promotional Notepads and Stationery
Another business promo tool is stationery. The options in this category are endless. You can create almost anything, stick your logo and contact information on it, and hand it out to your customers. Custom printed shopping lists, notepads, and to-do lists are a few simple items that come to mind. Anytime someone reaches for a scrap piece of paper is your opportunity for them to be reminded of you and your company. You can also create something with a little bit more fun attached! What about a daily inspirational quote? Or a daily riddle with the answer given on the next page? These tactics make the customer WANT to use your product, and will subconsciously get them excited about seeing your company name. You can also provide laminated stationery so that it can be written on with dry-erase or wet-erase markers.
No matter what route you decide to take this year, it is important to get your name and information in front of as many eyes as possible, as often as possible. Contact PrimeNet today and let us help you get started on your next promotional campaign!
Interesting info? Share it!