By Pat Tucker, Production
.
Thousands of APWU members will rally at postal facilities in 36 states on Thursday to ask consumers to join in their cause.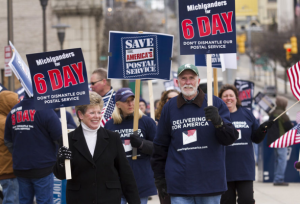 Members of the American Postal Workers Union will hold rallies in more than 85 cities this Thursday in a "National Day of Action" to call for expanded hours and the offering of new services such as banking to preserve jobs.
.
"U.S. Postal Service executives and the agency's board of governors are using a manufactured financial crisis to justify their strategy of reducing service, delaying mail delivery, and dismantling a great national treasure," said APWU President Mark Dimondstein in announcing the planned demonstrations. "Postal workers are fighting for a vibrant, public Postal Service that expands hours, offers new services, and gives quality service to people across the country."