PrimeWARM® Targeted Advertising:

Want to increase your ROI with a highly visible strategy? Print+Digital is the way to go!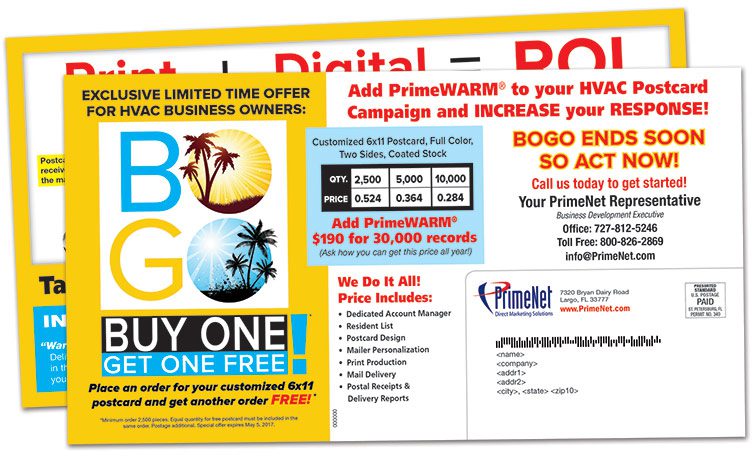 When you add a PrimeWARM® targeted digital marketing campaign to your already powerful direct mail message, you'll not only increase the visibility of your campaign, you'll also add value in the brand recognition that comes along with visual repetition – Which of course, translates to paying customers!
…
---
Here's how this Direct Mail to Online strategy works: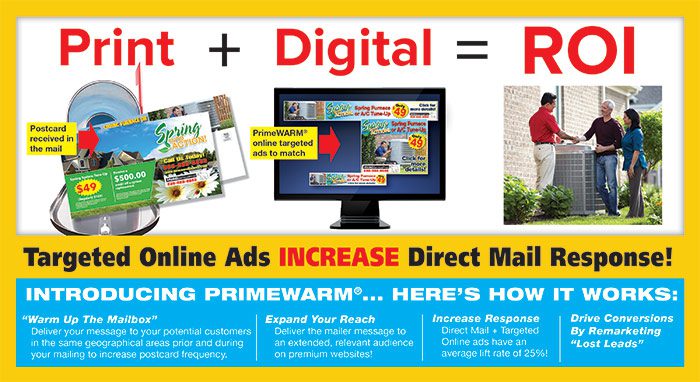 .
"Warm up the Mailbox"
Deliver your message to your potential customers in the same geographical areas prior and during your mailing to increase postcard frequency.
Expand your Reach
Deliver the Postcard message to an extended,
relevant audience on premium websites!
Increase Response
Postcards + Targeted Online ads
have an average lift rate of 25%!
Drive Conversions by Remarketing "Lost Leads"
---

Includes:
6″x11″ Postcard, Full Color, 2 Sides, Coated Stock
Add PrimeWARM® for ONLY $190 for 30,000 Records!
(ask how you can get this price ALL YEAR)
Ask about Value Pricing.
---
---
Give us a call today • 1-800-826-2869 • to get started!
Ask about special offers for your targeted online advertising today!

*any example sale or regular pricing excludes postage