PrimeWARM® Targeted Advertising, Self Mailer + Online Ads: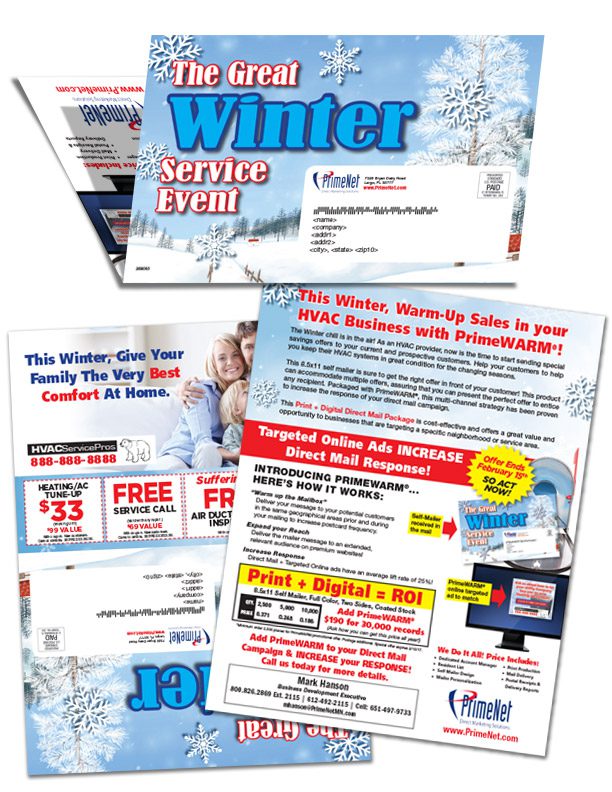 Want to increase your returns with a highly visible strategy? Mailed+Digital is the way to go!
Visibility adds value. And in the interest of value, when you add a PrimeWARM® targeted digital marketing campaign to your tangible, and already powerful targeted direct mail message, you'll be able to increase the visibility of your campaign, which translates to added value in the form of  brand recognition that comes along with visual repetition – And this of course, translates to more paying customers!
.
.
.
---
Here's How it Works:
"Warm up their Mailbox"
Deliver your message to your potential customers in the same geographical areas prior to and during your mailing to increase mailing frequency.
Expand Your Reach
Deliver your mailer and offer to an extended,
relevant audience on premium websites!
Increase Your Response Rates
Self Mailer + Targeted Online ads
have an average lift rate of 25%+!
Drive Conversions by Remarketing "Lost Leads"
---
PrimeWARM® is a multi-channel strategy which will increase the response of your direct mail campaign.  By adding Targeted Online Banners to your Mail Campaign you'll:
1. Increase Brand Awareness – The more your ad is seen the deeper the foot print is embedded in the consumers mind.
2. Increase Ad Frequency – There is a great chance that the consumer will receive both the direct mail piece and the banner ad on line.
3. Expand the Reach – your message will be delivered to an extended, relevant audience on premium websites! The more people who see the ad = the better the response will be.
4. Increase Response – The combination of a printed, customized mailer + PrimeWARM® (targeted banner ads) has an average lift rate of 25%.
---
Your path to lead conversion includes:
•    PrimeWARM® to "Warm Up the Mailbox" (Digital)
•    Direct Mail Drop (Print)
•    Remarketing to Drive Conversions (Digital)
•    8.5″x11″ Self Mailer (folds to 8.5″x5.5″) on Full Color, Glossy Cover Stock, 2 Sides.
•    Add PrimeWARM® for ONLY $190 for 30,000 Records!
.  .Special offers come and go: Ask how YOU can get these great prices ALL YEAR LONG!
.  .

Pricing:
Qty. 2,500…..Price 0.371
Qty. 5,000…..Price 0.248
Qty. 10,000…Price 0.186
---
Give us a call today • 1-800-826-2869 • to get started!