Get the neighborhood buzzing…
and BUYING!
---

Direct mail is the best way to reach potential customers in your area.
Studies show that 80% of direct mail gets read or skimmed. That means that when you send direct mail, your message not only gets delivered to potential customers…it gets read.
Direct mail doubles your impact in any neighborhood.
What's better than your customer's neighbors seeing your van? Those neighbors receiving a postcard advertising your services the same day. With a job site radius mailing, you can get twice as much impact from any job. Use our mailing list builder to mail to addresses close to your next job site.
It's the perfect way to encourage repeat business from current customers.
Direct mail is ideal for reminding your current customers to get their A/C, heating, filtration, and plumbing systems checked.
---
This Month's Featured Product:
8.5×11 Self Mailer, Full Color, Two Sides, Coated Stock. Design is fully customized to your needs.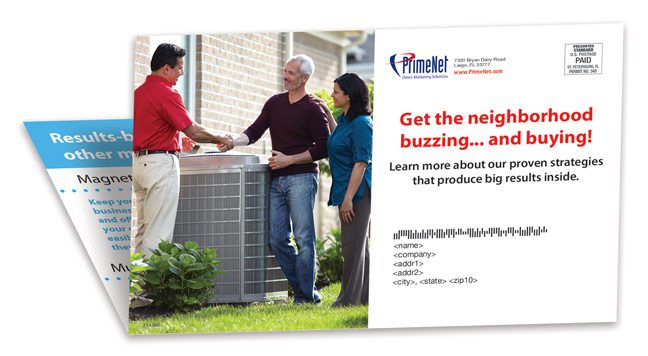 We Do It All! Price Includes:
• Dedicated Account Manager
• Resident List
• Customized Design
• Mailer Personalization
• Print Production
• Mail Delivery
• Postal Receipts & Delivery Reports
---
Call us today to learn more about our proven
strategies that produce BIG RESULTS!  800-826-2869
Check Out 4 Proven Strategies for Your HVAC Campaign's Success Here