It's now OFFICIAL!
"This email is to inform you that Primenet, a DMU mailer located in the Suncoast District is being on-boarded to Seamless Acceptance program effective 11/1/17." -USPS Mailing Standards Specialist|Suncoast District

It was a long approval process to officially begin the Seamless Acceptance process, but we did it!
---
PrimeNet has gone Seamless!
In most verification environments, mail is currently verified manually by a USPS acceptance associate before entry and finalization. The acceptance associate performs a cursory review, collects full service initial verification mail samples, conducts requested in-depth verifications, and finalizes a postage statement. Mail can be released only after this process is complete, and it takes time – but with Seamless Acceptance, that crucial time gap is greatly reduced.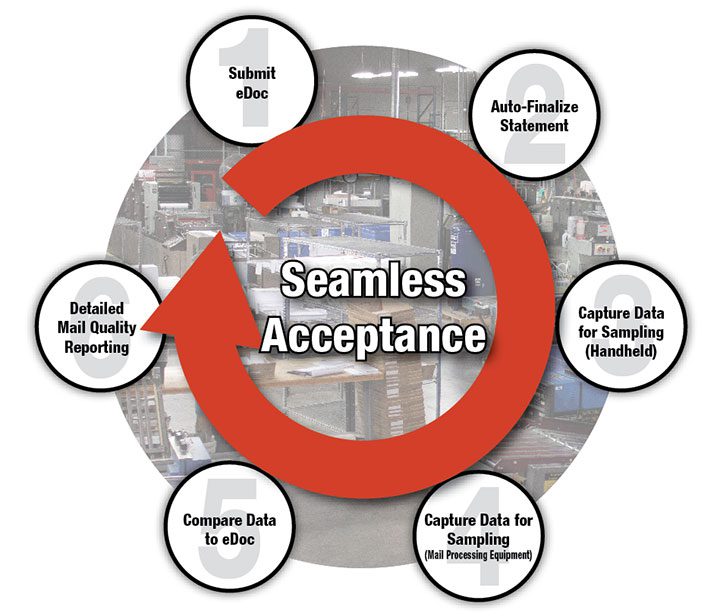 What does Seamless Acceptance mean for my company?
Seamless Acceptance will automate the verification process – streamlining and speeding up entry verifications. This results in a standardized acceptance and verification process for all mail preparers, regardless of their production process, and eliminates the need for Special Postage Payment Systems. There is a single streamlined standard operating procedure for acceptance employees to follow for verification. Manual scans will still be collected to capture weight, postage payment, and content eligibility. All gathered scans will be compared to the electronic documentation (eDoc) submitted and results will be displayed on the Mailer Scorecard.
The Seamless Acceptance process does not require in depth up-front manual verification at either the Detached Mail Unit (DMU) or the Business Mail Entry Unit (BMEU). This allows PrimeNet to have a longer production cycle as only random sampling is performed at the DMU or BMEU pre-induction. Current time-consuming manual verifications, such as the Mail Piece Count Verification (MPCV), will no longer be required under Seamless Acceptance. In fact, most verifications are fully automated based on eDoc and mail processing equipment (MPE) scans. Acceptance associates will manually capture data including weight, postage payment type and content eligibility during the sampling process which will be compared to the eDoc to determine discrepancies.
With Seamless Acceptance, PrimeNet will also be able to perform our own Drop Shipment Management System (DSMS) releases and clearances alleviating the need to wait for an acceptance associate to release mailings.
All of this means that your mail will enter the postal system more quickly, which is especially important for time sensitive mailings.
For more information on how our adoption of the Seamless Acceptance process can benefit your business, give us a call at 1-800-826-2869.
Interesting info? Share it!