Door Hangers are a Cost Effective Direct Marketing Vehicle.
Door hanger marketing is often an ignored direct marketing program even though it offers great value and opportunity to businesses that are targeting a specific neighborhood or service area.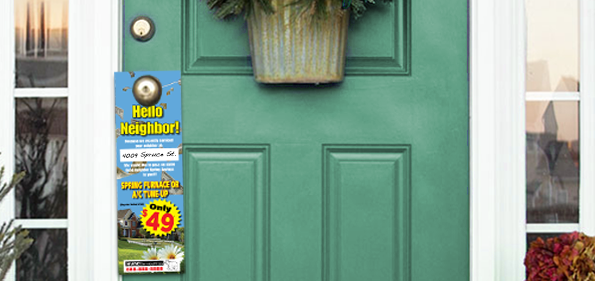 Door hangers are cost effective to print, and are an extremely effective marketing program for any industry. Door hanger advertising works FABULOUSLY for the Home Improvement industry i.e.: heating & air, roofing, remodeling, landscaping, lawn maintenance, and many others.
Whether you are bidding on a job, doing a repair, or on a scheduled service visit; having your sales person or technician place door hangers on just 15 homes around the appointment will increase your business in a concentrated area.
A Few Benefits of Door Hanger Marketing:
Cost effective direct marketing program.
Generates new business, increases your client base and creates name recognition in a targeted area.
Saves you money by reducing mileage and gas expenses on your vehicles.
Reduces drive-time, thus saving you money on drive-time compensation, and allowins more time for appointments.
Tips for creating an effective Door Hanger Campaign:
Determine the specific purpose of your door hanger; What are you trying to accomplish?
The creative; Make your door hanger eye-catching. Today more than ever, it is important to include high quality, 4-color photos or art.
Like a direct mail post card, you should include a deadline or a place to add a deadline. Use one side for art and your message, and the other for offers.
The message; Less is more. Be simple and clear with bold headlines focused on your offer.
Establish the expectation for your team members of delivering 10-15 door hangers around each job.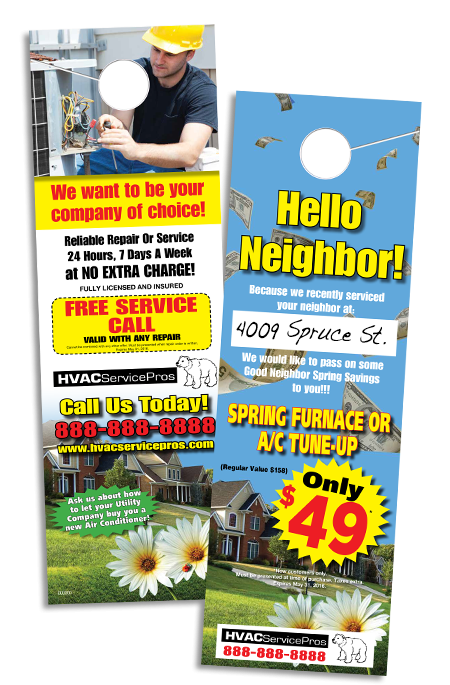 If you are interested in Door Hangers please contact me at PrimeNet 1-800-826-2869. With our custom designed services and expertise with vibrant eye catching 4 color graphics we will capture the attention of your target audience.
More Information on Door Hangers…

Interesting info? Share it!