Get the FULL Effect! Full Window Direct Mail Packages Produce BIG Returns on Your Direct Mail Campaign!
Immediately available in two designs, complete with scratch-off winners (or customizable to your specific dealership or industry), these direct mail packages get opened. The main mailer is printed on glossy card stock and inserted into a 9×12 full window envelope. This is a high quality direct mail package that brings RESULTS.
Why choose a full window envelope?
By choosing a full window envelope, you're able to conceal just enough of the border to spark curiosity. "Is that a real five-dollar bill that has fallen to the corner?" Open it to find out! "What DID I win under this scratch off?" These are the kinds of "I wonder" questions that get customers in the door for you to close your deals. Go ahead- Have a look through the galleries below for some ideas on how this type of direct mail campaign can work for you:
Patriotic Automotive Examples:
Under the Sea Automotive Examples:
---
What will I get with this Direct Mail Package?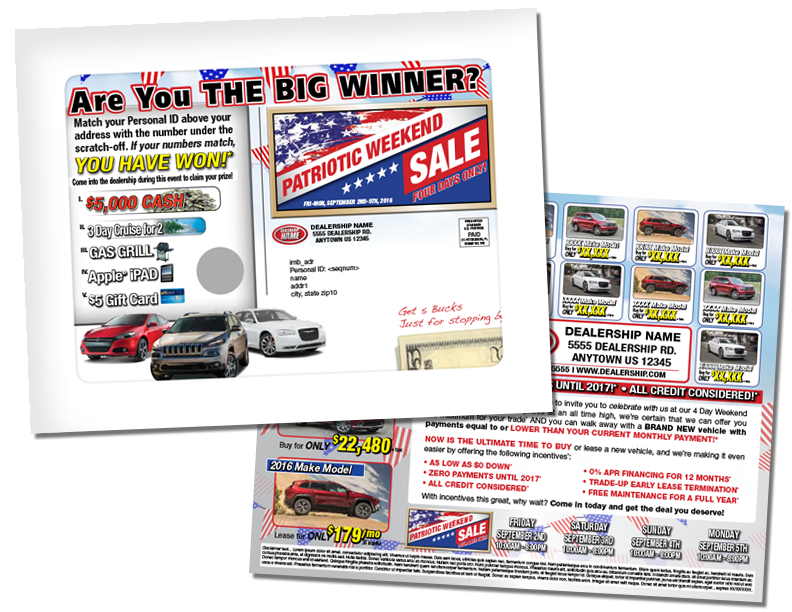 .
Items included in this package:
•  Customized mailer printed on glossy card stock
•  Choice of scratch-off, affixed
•  9×12 full window envelope
Give us a call today to discuss details, pricing and scheduling! 1-800-826-2869.