The heat is on and it's the perfect time to execute an effective HVAC direct mail campaign. Whether you want to sell more units or increase the number of maintenance clients you have today; HVAC postcards are proven to be effective for generating new business for HVAC contractors for over 30 years.  With the heat starting to hit its high, consumers are concerned about being without their AC, and are more likely to spend money on new units, a tune-up or start a regular maintenance program to lessen the worry!
Your company may be busy right NOW – and businesses often reduce advertising in their busy season – however; it makes more sense to be in front of prospective customers when they are most likely to be looking for your product and service – TODAY.
Choosing Your HVAC Direct Mail List
For New Customer Acquisition You Should Target:
Homeowners in specific neighborhoods based on your current or targeted service areas.
Elimination of non-homestead homes, town homes and apartments.
Specifics: you can add household income to ensure potential customers can afford to purchase your products and services.
The Key Elements of the Design of Your Postcard: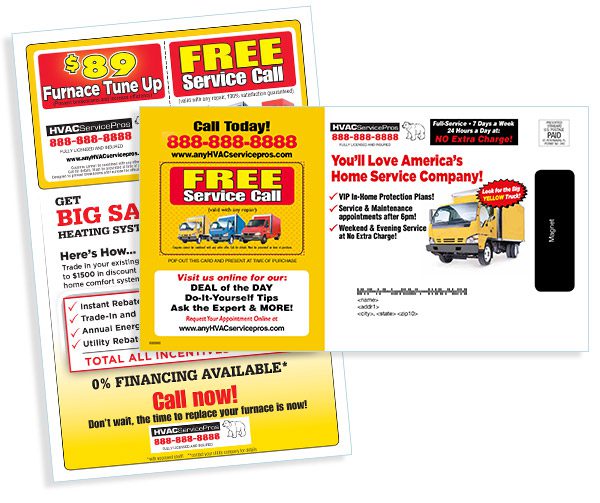 Clear layout and design – Less is more
Bold Headline & Subheads that lead to text
Graphics that support your message
Color that makes the ad really stand out
Your company address, phone, website, email & logo
STRONG OFFER – see below
Choose a STRONG Special Offer
Aggressive offers are going to drive a better response.
Have a strong call to action, for example: CALL TODAY TO RECEIVE 50% OFF!
Clients need a reason to switch their business to you to eliminate the worry of change!
Mail Out Consistently
The key to all advertising is consistency – and direct mail is no different.
Mailing monthly at a minimum will deliver the best response.
.
Check out some samples of HVAC mailings here:
(click an image to expand the gallery):
Interesting info? Share it!