By Jack Flick, Data Services
We're pleased to announce our newest powerhouse of fast, efficient direct mail envelope printing here at PrimeNet. We've acquired the iJetColor 3.0 Envelope Press, and she's running strong!
What this means for our customers is this:
PrimeNet now houses the capability to print four color direct mail envelopes quickly, and at an amazing value to our clients!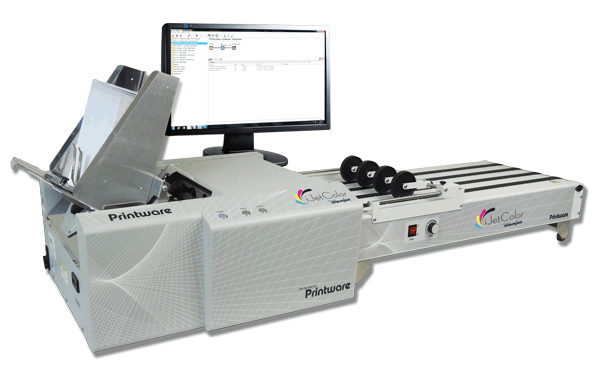 "The iJetColor 3.0 Envelope Press, powered by Memjet® and perfected by Printware®, is offered as a complete digital color printing solution bundled with an industry standard Xitron Navigator Harlequin RIP and workflow, a standard output tray and an iJetColor combo ink pack capable of printing thousands of 4-color envelopes, business cards or letterheads.
Advanced print technology usually demands a premium price – but not so with the new Printware iJetColor 3.0 Press. With a print speed three times that of traditional toner devices, the iJetColor consumables are roughly one-third the cost, offering extremely competitive ink pricing to bring the lowest cost per piece to the commerical printing market."  Source: iJetColor.com
Check out the video below showing the efficiency of the iJetColor:
iJetColor 3.0 Press Features
High Speed Ethernet communications support – Very Fast Network Support
Improved Navigator Harlequin RIP 10.1r1 with increased variable data output.
Improved automation for color spot matching – Color Boost Technology – for even more accurate profitable printing.
Built in cost calculator
New Printware for lifetime trouble-free operation. Exclusive On-Line Training Modules
Improved color output – advanced profiles and PMS color matching.
New CPU Hardware and Windows Operating System Enhancements
Improved toolbox controls – for easier operation and care
Enhanced user control over cleaning/maintenance cycles.
iJetColor 3.0 Press Benefits that Directly Translate to Direct Mail Value
Low Total Cost of Ownership
1/3 the operating cost of typical toner devices
High-Performance
3 times the speed of typical toner devices
Easy-to-use
Integrates with existing production environment
Production Ready
Production-quality Navigator Harlequin RIP workflow with spot color matching software
Expandable
Optional software for addressing and mail list preparation
Flexible
Stock thickness up to 160# cover/430 gsm
Source: iJetColor.com
Interesting info? Share it!