Clever, Newly Designed Products Make the Most of Your Message!

When it comes to marketing your business, fresh new approaches to attract customers are always a smart idea! Personalized Punch-Out Cards with the 'right offer' are a clever way to get new and repeat business! When popped out, the card is a simple portable reminder to your customers how they will immediately benefit from visiting your business, and the custom savings voucher inside acts as a great tool to solidify your message and rapport.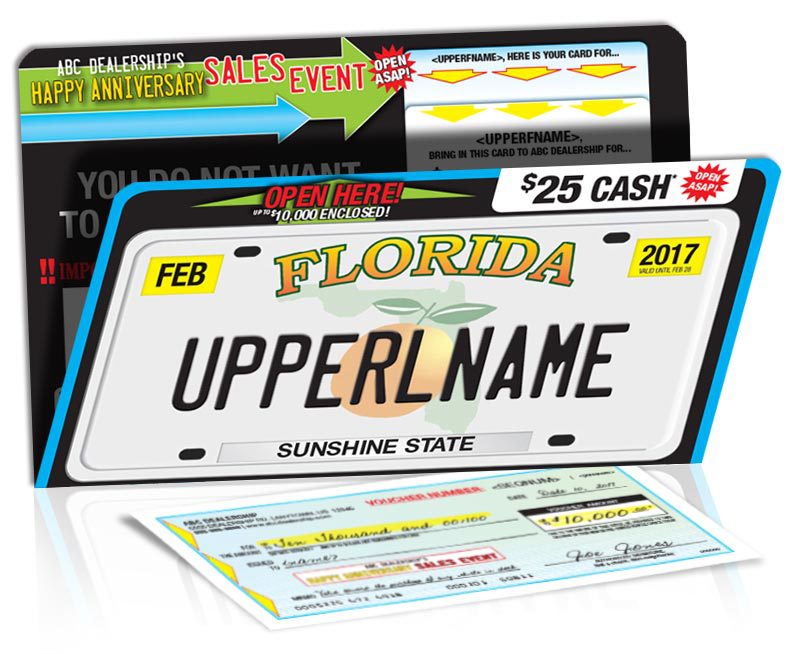 Your license plate panel can be customized to your specific state or even your own company branding. This versatile design offers plenty of space for several elements, including three separate calls to action: custom voucher, punch-out card and a contest of your choice, thus boosting your chances for new business.
Creative Direct Mail is Always a Smart Choice.


Why? RESULTS! Our team will gladly work with you to build the perfect program centered around this type of campaign which will bring you the results you want while remaining well within your marketing budget. You have many options when it comes to your next direct mail program, so if you are looking to try something different – Something that WORKS – Ask about PrimeNet's Die-Cut UV License Plate w/Punch-Out Card & Check Insert!
---
---
If you are interested in this, or similar direct mail packages, please fill out the contact form on this page OR call us today at 800-826-2869.
Interesting info? Share it!