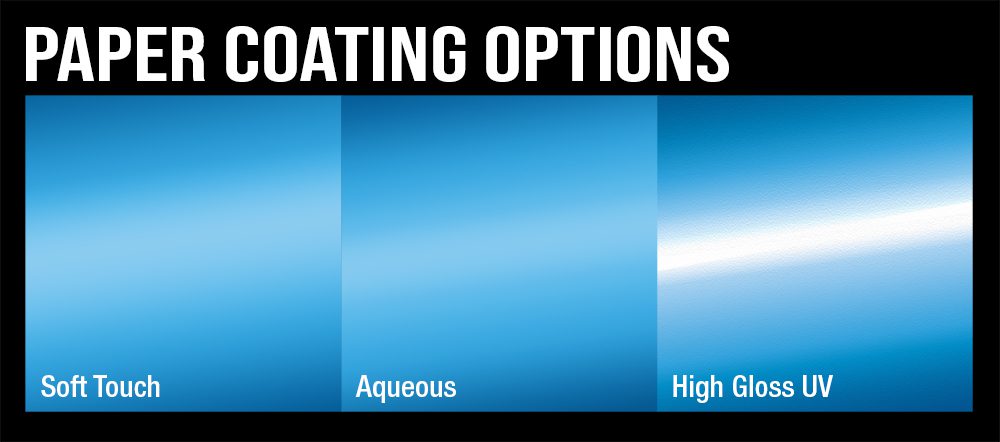 ---
Soft Touch Coating
Soft Touch coating provides an attractive and practical option that results in a luxurious presentation that remains cost-effective in production.
This is a type of paper coating which creates a velvet-like texture to the paper stock when applied. The paper becomes "soft" to the touch and increases tactile appeal while creating a softer look and feel on printed materials than traditional aqueous or UV coating. Soft Touch coating also creates a barrier which inhibits fingerprinting, and protects the sheet from scuff marks during finishing operations such as binding, folding and cutting.
Soft Touch dries fast, is non-yellowing, and is eco-friendly. "Sophisticated" and "Luxury" are words often used in describing the effect Soft Touch coating produces on printed materials. This tactile sensation has been proven effective in engaging with your prospect or customer.
Printing Tip: Darker ink colors will appear very slightly muted, with Soft Touch applied. This creates a sophisticated and elegant look when applied as recommended. This coating is best applied over high gloss paper stock to preserve the crispness of printed images.
Aqueous Coating
Aqueous coating provides a matte or gloss surface that is resistant to dirt and fingerprints. This coating improves the durability of postcards and other printed materials as they go through the mail – or materials which are handled often. Aqueous gives a high end look to brochures, catalog covers, and presentation-type materials.
Aqueous coatings are available in many variations, but the most common categories are gloss, satin and matte.
Typically applied to the entire printed piece, aqueous coatings provide substantial scuff-resistance, and due to its water base, it's an environmentally friendly option.
High Gloss UV Coating
UV coatings are applied, then quickly dried and cured by exposure to ultraviolet light to harden the coating. Because of the ultra high-gloss nature, this coating really makes high-contrast images and photographs stand out on printed pieces. UV coatings provide the highest gloss finish versus other coatings.
Printing Tip: UV coating is best suited to flat pieces and pieces with a light color at the fold. Folded mail pieces may crack at the fold due to the thickness and hardness of the coating, which will be noticeable on dark ink. HOWEVER, proper scoring and/or smart usage of art placement can help prevent this.
Lamination
When talking about the print industry, lamination (or laminating) refers to a process of bonding a film of durable clear plastic onto printed pieces. The laminate film is most often applied to both sides of the printed piece so the piece is completely enclosed in plastic. Lamination protects from moisture, wrinkles, smudges, tears or anything that could shorten the life of a printed piece – plus it adds strength and rigidity. Learn more about lamination here.
---