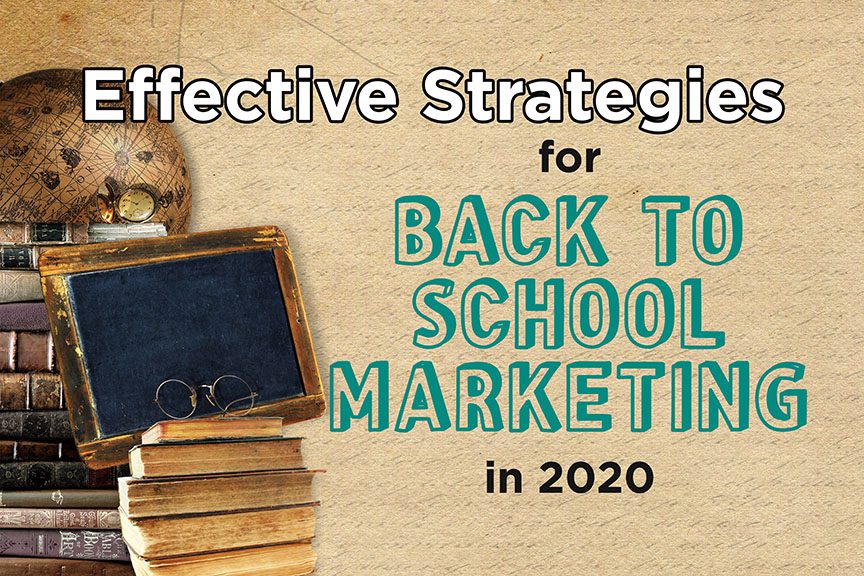 With summer coming to a close,  it's that time of year again – Back to School season! While learning may look a little different this year, what does this mean for businesses? Many say that back to school season is the official kick off of the fourth quarter (Q4,) which is the most profitable quarter of the year for most businesses. Even though this year is different than many in the past, it is likely that this will be true for 2020 as well. This means you should definitely continue your marketing efforts during back to school shopping this year.
According to the National Retail Federation (NRF,)  consumers tentatively plan to spend a record amount to prepare for school and college this year. College students and their families expect to spend an average $1,059.20 per family, which would top last year's record of $976.78. College spending is expected to total $67.7 billion, up from $54.5 billion last year and breaking the record of $55.3 billion set in 2018. Total spending for K-12 and college combined is projected to reach $101.6 billion – exceeding last year's $80.7 billion and topping the $100 billion mark for the first time. All of that said, if you don't have a campaign aimed at back to school shopping, you will be missing out on some serious possible profits.
How will COVID-19 impact back to school shopping?
While one may assume that back to school spending would be down this year due to the coronavirus, the exact opposite is actually true. Many students will be learning (at least in some capacity) from home this year. Because of this, many consumers will need to purchase new items to make this procedure more accessible or comfortable. Laptops, computer accessories, speakers or headphones, and printers are only a few of the products that consumers are planning to buy this year specifically because of e-learning.
While electronics spending is expected to be much higher than last year, it's not the only market that will be effected. Traditional school supplies like paper and writing utensils are expected to be purchased more as well. While clothing purchases aren't expected to raise, they are projected to only go down slightly.
How do I market for MY company during back to school season?
So – you want to get in on the action, but your business doesn't seem relevant? You don't have to be selling electronics, school supplies, furniture, or clothes to be able to have a back to school sale. Come up with a creative way to tie your business into the season that makes sense. For example, a spa could sell the idea of relaxation during this stressful time. Restaurants can run a student special. Any company can have a "back to school" spin on what they are offering. Back to school marketing isn't just for K-12 students, either. Once you think of college aged students, even more ideas can come into play. From dorm decor to a new car, the possibilities are endless. No matter what business you have, there is always a way you can tie it in to back to school savings.
Who is the target audience for back to school marketing?
Keep in mind that parents aren't the only ones you are advertising to. Especially during back to school season, many times parents are simply buying what their kids are telling them to. Make your advertising relevant to current trends. What is popular with kids these days? It may be wise to even ask children for ideas. Their opinion is important when they are your key demographic.
Another thing to keep in mind is HOW you market your business. Nearly all school-aged children (and their parents) have social media today. Once again, it may be wise to ask some kids what social media platforms they are most often frequenting and focus your social media efforts there. Just because you use Facebook doesn't mean teenagers in middle school do. TikTok is one of the most popular social media platforms that people of all ages use currently. It's certainly worth it to look into learning how to market across all of the current platforms.
How can I stand out against competition during the back to school sale season?
While the opinion of kids matters, don't discount mom and dad. While Susie may be surfing Snapchat, her parents are most likely to be checking the mail for sales. Direct mail campaigns are vital for any successful back to school marketing strategy. It's important to note that you won't be the only business trying to grab the attention of consumers at this time. Therefore, it's important to stand out from the crowd. PrimeNet has a variety of unique mailers that are sure to get you noticed.
Make your sale valuable to the consumer. Try adding a school supply giveaway or a gift card to a place where the customer can shop for school supplies as part of your deal. Think of ways you can make your sale unique so that customers feel drawn to you versus your competitors.
Follow this advice, and you are sure to have an A+ back to school marketing campaign!
Interesting info? Share it!