By Becky Paulsen, Client Services
LARGE Full Window Direct Mail Packages Produce BIG Returns on Your Direct Mail Campaign, and here's why: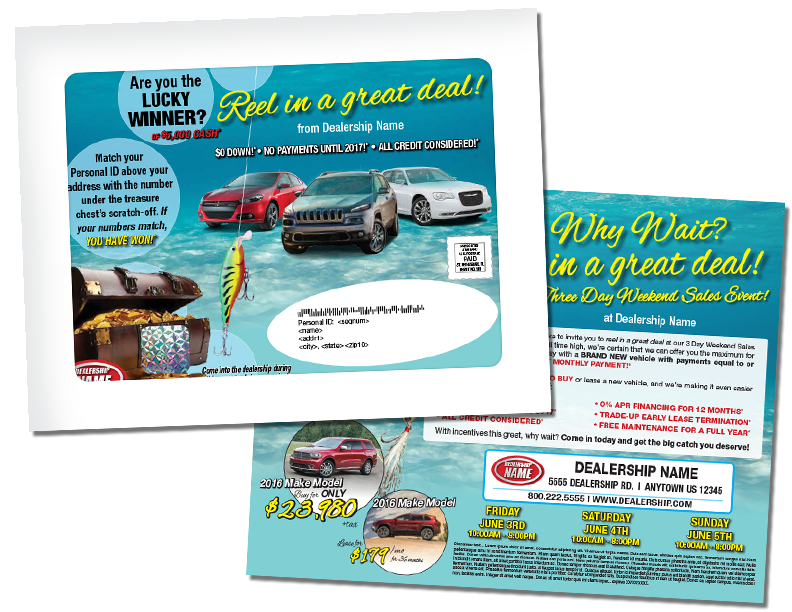 With a LARGE full window direct mail package, you're able to conceal just enough to spark curiosity. "Is that real money that has fallen to the corner?" Open it to find out! "What DID I win under this scratch off?" These are "I wonder" questions that get customers in the door for you to close your deals. Go ahead – Have a look through the galleries here for some ideas on how this type of direct mail campaign can work for you.
These produce results especially well for the Automotive Industry because of the large area on the back to list inventory specials, but can be customized to any business that will be offering limited time promotions, discounts or sales.
What do I get with this Full Window package?
Besides getting a tremendous RESPONSE, here's what is included in this package:
•  Customized mailer printed on glossy card stock
•  Choice of scratch off, affixed
•  9×12 full window envelope
…and of course, the expertise of our professional account managers who will be happy to answer any questions you may have so you can get your campaign rolling.
For more information on this product, please take a look at the details listed here.
Give us a call today to discuss details, pricing and scheduling! 1-800-826-2869.
Interesting info? Share it!