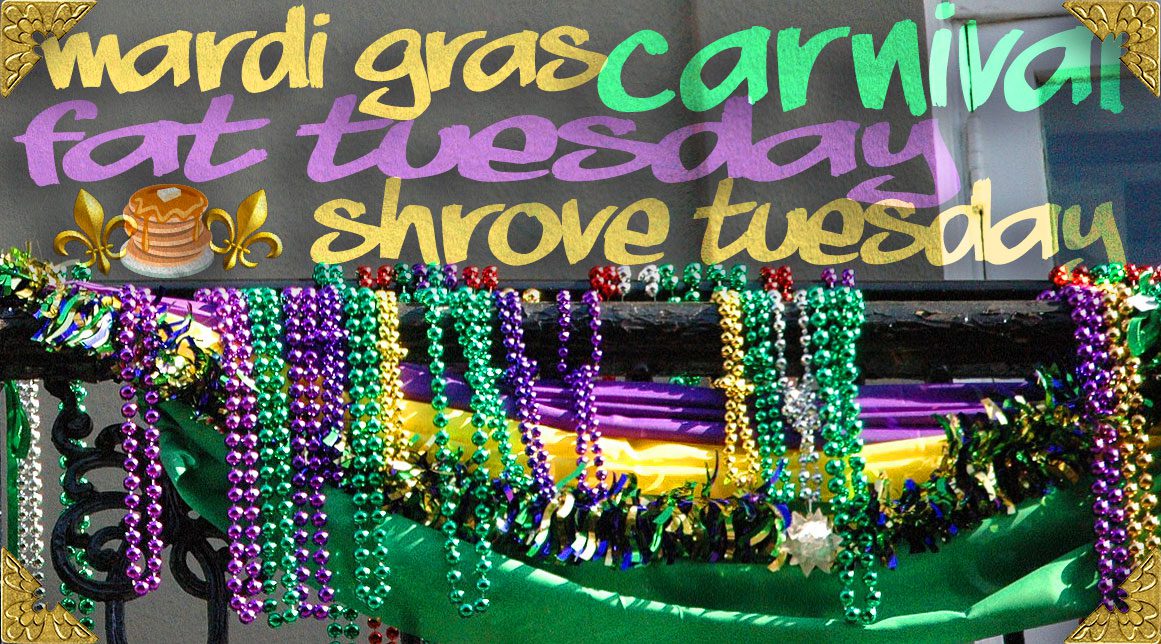 Mardi Gras– Carnival– Fat Tuesday– Shrove Tuesday… Whatever you want to call it, it happens every year, (sometimes in February, sometimes in March) and is one of the biggest times to "let loose" for some, before the Lenten season begins. For others, it's just a "big ol' party".
As a business, Mardi Gras, and Carnival which leads up to it, is a good time to play up the celebration time by adding themed sales events to boost business. Here are a few ideas to get your good times rolling:
1.  Mardi Gras "Fat Tuesday" Sales Events
Host special discount sales events for Mardi Gras. Use the FOMO tactic– the idea that customers need to stock up and enjoy so they don't miss out before Lent.  Send direct-mail postcards, hand out brochures or flyers at point of sale and at the door, or hang posters to spread the word locally. Be sure to post events on your company's facebook page and other social media as well.
2.  Be Part of the Masquerade by offering discounts.
If you are a retail establishment or family restaurant, you could give a small freebie or sample– or offer a discount to anyone who enters your establishment with a mask on Mardi Gras. This is a good way to engage on social media as well, by taking pictures of people who give you permission to post them on your page(s).
3.  Mardi Gras Costume Contest
Invite your customers to enter a themed costume contest where the winner gets a nice prize, and everyone else who enters gets a discount. ALSO a good way to engage on social media. Snap pictures of people in costume (only people who give you permission) and post them on your page(s). Before you know it, you'll have people tagging themselves at your establishment.
4.  Hand Out Beads Early!
If you advertise you're handing out beads, you should begin the week or 2 leading up to Mardi Gras. This way, people will have them for their parties, ready to wear (and throw?) Offer a small giveaway or discount to pose wearing their beads in front of your sign and post on social media. You can even create your own hashtag and offer additional incentives to people who use it to share your business.
5.  Host your own Mardi Gras themed party.
Depending on your type of business, a party of your own might be just the ticket to bring in sales. This doesn't have to happen ON Mardi Gras, because people may have their own plans, and also – it's Tuesday. People likely have to work the next day. However – BEFORE Mardi Gras is a good idea, since Carnival lasts the entire month leading up to it anyhow. Give your customers a special Mardi Gras party which doesn't take much to organize. You can sell tickets at the door to offset your costs of food, drinks and entertainment. Tickets can later be used in a raffle – Another option is to invite non-competing businesses to sponsor the party with you.  Let people know about your event ahead of time by sending invitation cards or even sell advance tickets.
6.  Give away a Mardi Gras trip.
Start a promo to enter "loyalty" customers into a drawing to win a trip to next year's Mardi Gras in New Orleans.
7.  Remember the people who prefer not to party.
Not everyone likes to party on Mardi Gras.  Send business-minded customers a postcard or sales letter that features a "Staying-in" discount – because they "have more productive things to do."
These are just a few ideas we have seen prove successful in the first quarter of the year. Mardi Gras is a fun time, so with advertising to reflect that, it will be a piece-of-cake to bring in business.
---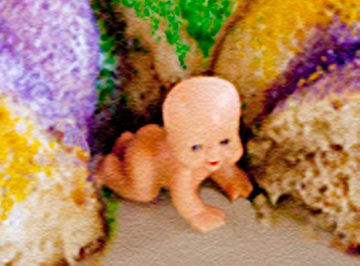 Fun Fact: The King Cake is a New Orleans tradition
that involves a pastry, a small plastic baby, and a party.
---
---
Interesting info? Share it!