Storefront businesses are in a world of change right now. The internet and social media have changed the way people shop and as a result, have drastically changed the way businesses market. Today we all hear about the benefits of marketing online, connecting over social media, and using reviews to boost your site. What isn't as discussed are the physical aspects of marketing.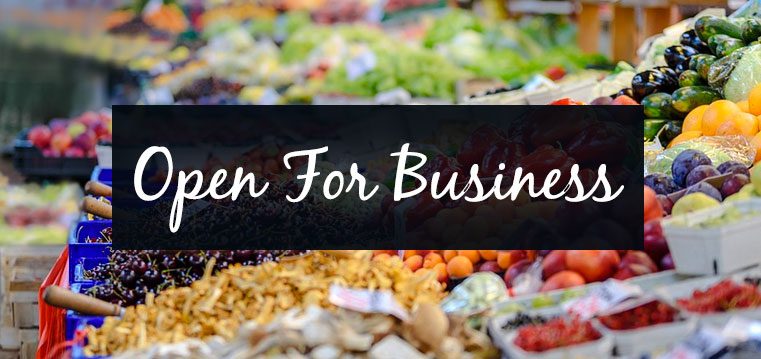 It seems like they might be irrelevant, but having a physical way to connect and remind customers of who you are is the most effective way of gaining sales. When it comes to street-side or storefront advertisements, you'll have to use better techniques than you did in the past to get people to walk in your doors. Even if you don't have much foot traffic, setting up a newsletter or sending out coupons to targeted lists of consumers can help give you an edge over online competition. Don't just let your sales keep dropping, use the tips below and get more traffic coming through your doors.
Open Doors
Having your doors open on a sunny day gives you more visual opportunities to entice shoppers inside. Provide an interesting sidewalk display that naturally leads inside or use signage to promote a sale or new product. If you are concerned about potential safety issues, use outdoor security cameras to keep merchandise safe, and to see when potential customers stop. When someone stops to check out your display, have an associate greet them or lead them to similar items inside the store if they show an interest.
Bold Colors
What is going to attract more people: a neutral tone or a bright, bold color? Obviously, the second one. Even if your logo or other store colors are subdued, don't limit your ability to get attention with good signage or storefront colors. Use colors like orange, pink, or red that draw the eye to your store. You could find you get a lot more foot traffic than before. Then, work on your staff training to convert this traffic into additional sales for your top line revenue. Work with a good print system so your posters, advertisements, and window graphics are glossy, bright, and won't fade overnight. Even if they don't stay, you can hand out coupons or postcards with reminders of future sales, making your open door an easy "in" for future business.
Calls to Action
There is a concept in marketing called the "call to action". Essentially, this means you use action words to prompt customers to purchase your product or sign up for something. They may be on the edge, but they need that final little push, which is what the call to action provides. Things like "come in and see our low prices", or "sign up for a free t-shirt today!" are great examples of this. Go a step further and target your repeat customers or those that sign on with a mailing list with calls to action in the form of postcards that include sales or coupons. Directly contacting them provides a physical reminder of you and your products as well as markets to a more specific audience.
If you're looking to stay competitive in today's world with a brick and mortar store, you need to do more than open the doors in the morning. You need to find ways to make it more inviting than before. Today, consumers can shop online in minutes and find something that fits their needs. If you want them to use your store instead of your competition, you have to offer them something that makes it easy to shop with you. Follow the tips above and enjoy higher profits and sales. And make sure to hire and train the right staff that will execute the plan you come up with.
Interesting info? Share it!