By Pat Tucker, Production
.
Thousands of APWU members will rally at postal facilities in 36 states on Thursday to ask consumers to join in their cause.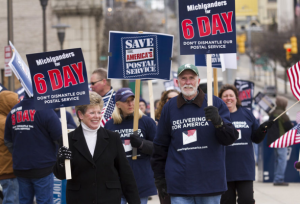 Members of the American Postal Workers Union will hold rallies in more than 85 cities this Thursday in a "National Day of Action" to call for expanded hours and the offering of new services such as banking to preserve jobs.
.
"U.S. Postal Service executives and the agency's board of governors are using a manufactured financial crisis to justify their strategy of reducing service, delaying mail delivery, and dismantling a great national treasure," said APWU President Mark Dimondstein in announcing the planned demonstrations. "Postal workers are fighting for a vibrant, public Postal Service that expands hours, offers new services, and gives quality service to people across the country."
In an earnings call last week, Postmaster General Megan Brennan claimed that new contract talks with the APWU and two other unions were progressing in a mood of cooperation, with shared goals of ensuring the future of the Postal Service. But the APWU implied otherwise, reporting that it had made "the unprecedented move" of bringing consumer issues to the bargaining table, proposing new services be offered at Post Offices.
In addition, the union said it demanded extended hours to shorten customer wait times and the restoration of prompt mail delivery. USPS's current contracts with unions expire on May 20.
At its rallies on Thursday, union members will ask consumers to sign postcards saying "I Stand with Postal Workers" to be sent to Brennan. The demonstrations will take place in front of Post Offices and postal facilities in 36 states.
Source: Direct Marketing News

Interesting info? Share it!