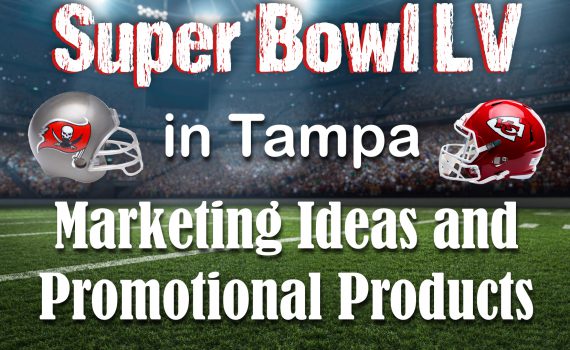 Every year, the Super Bowl brings in millions of dollars in profit due to marketing. This year, the Super Bowl will be held in Tampa on February 7th, 2021. This means that areas surrounding Tampa Bay such as Clearwater, Dunedin, Largo, St. Petersburg, and the rest of Hillsborough and Pinellas Counties can cash in on even more benefits. Curious how you and your business can profit from the Super Bowl being local this year? Read on!
How can my local business profit from the Super Bowl LV in Tampa?
Football season, in general, brings the potential for so many marketing ideas. Almost any industry – from automotive to retail – can have a football-themed sale! The Super Bowl is like the grand finale of football sales! Businesses across the country can run "Super Bowl Sales" and "Football Frenzies," but the Tampa Bay area is in for an extra special treat. The Raymond James stadium in Tampa, FL will be the location of the Super Bowl LV in 2021. And this year is making history because the Tampa Bay Buccaneers get to play at their home field – a Super Bowl first! With everyone abuzz about the big game, local businesses need to take advantage of the extra promotions and cash in!

There are a million ways that you could tie your business into the Super Bowl. For example, a car dealership could have a sale on their new inventory. A common sales tactic for auto dealers is to do a prize giveaway for a test drive of a new car. So we can take this same strategy, and give it a Super Bowl flair. As a prize to the giveaway, the dealership could give away tickets to the game. If your budget isn't big enough for that – how about a new flat screen TV (to watch the game at home from)? You could even give away a gift card to a local pizza place and market it as a Super Bowl party food. Get those creative juices flowing, and you can tie your business in to the Super Bowl as well!
What kind of promotional products do I need to market my business during the Super Bowl LV?
Since the Super Bowl LV is such a great marketing event, there will no doubt be TONS of competition. That's why it is important to make your promotional products STAND OUT. If you are going to print flyers, make sure to print them with a great print provider. You don't want to hand out a product that will reflect poorly on your business. How can you choose a reputable print provider? We've got some tips here for you.

You also want to make sure that you use imagery and colors that will draw attention to you over the rest of your competition. Be sure to offer some savings to your potential customers! Offering coupons will almost always be more effective when promoting your business. And the number one rule in all marketing materials? Have a clear call to action. What is it that you want the consumer to do after they have viewed your promotional material? Do you want them to call and order something? Do you want them to visit your website? Decide what your main goal is and then make sure that is the piece of information that comes across most clearly.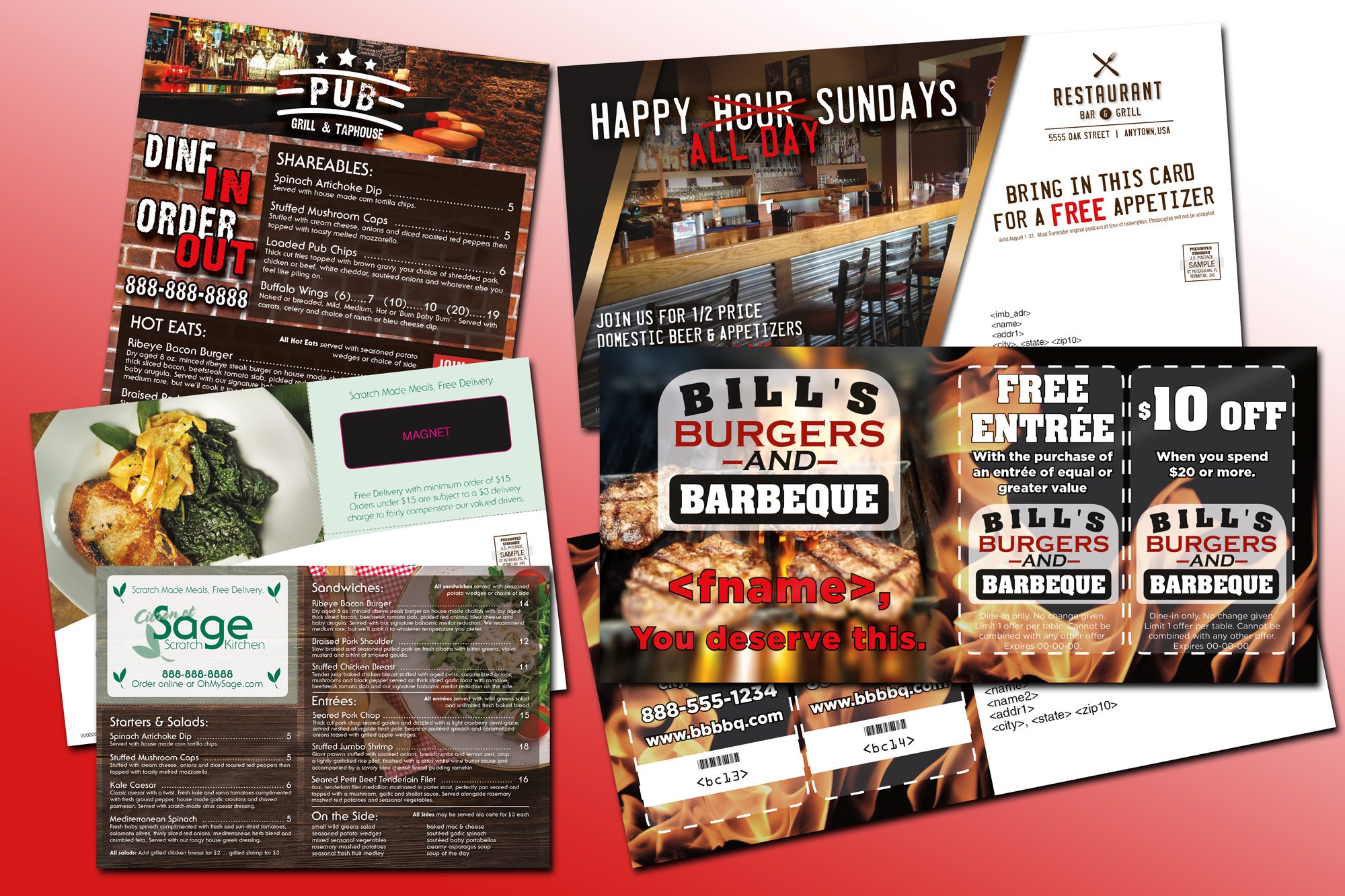 Having a flyer with your menu and some coupons will draw attention!
Laminated Menus
Due to Covid-19, one of the products that has been growing in popularity lately is the laminated menu. One of the biggest draws is that you can clean them off and re-use them. This helps lessen the spread of bacteria and sickness and is also more sustainable for the environment. For even more reasons why you should think about switching to using a laminated menu, read on here. Think about creating a Super Bowl themed menu. This can be used for the weeks leading into it and the big night itself.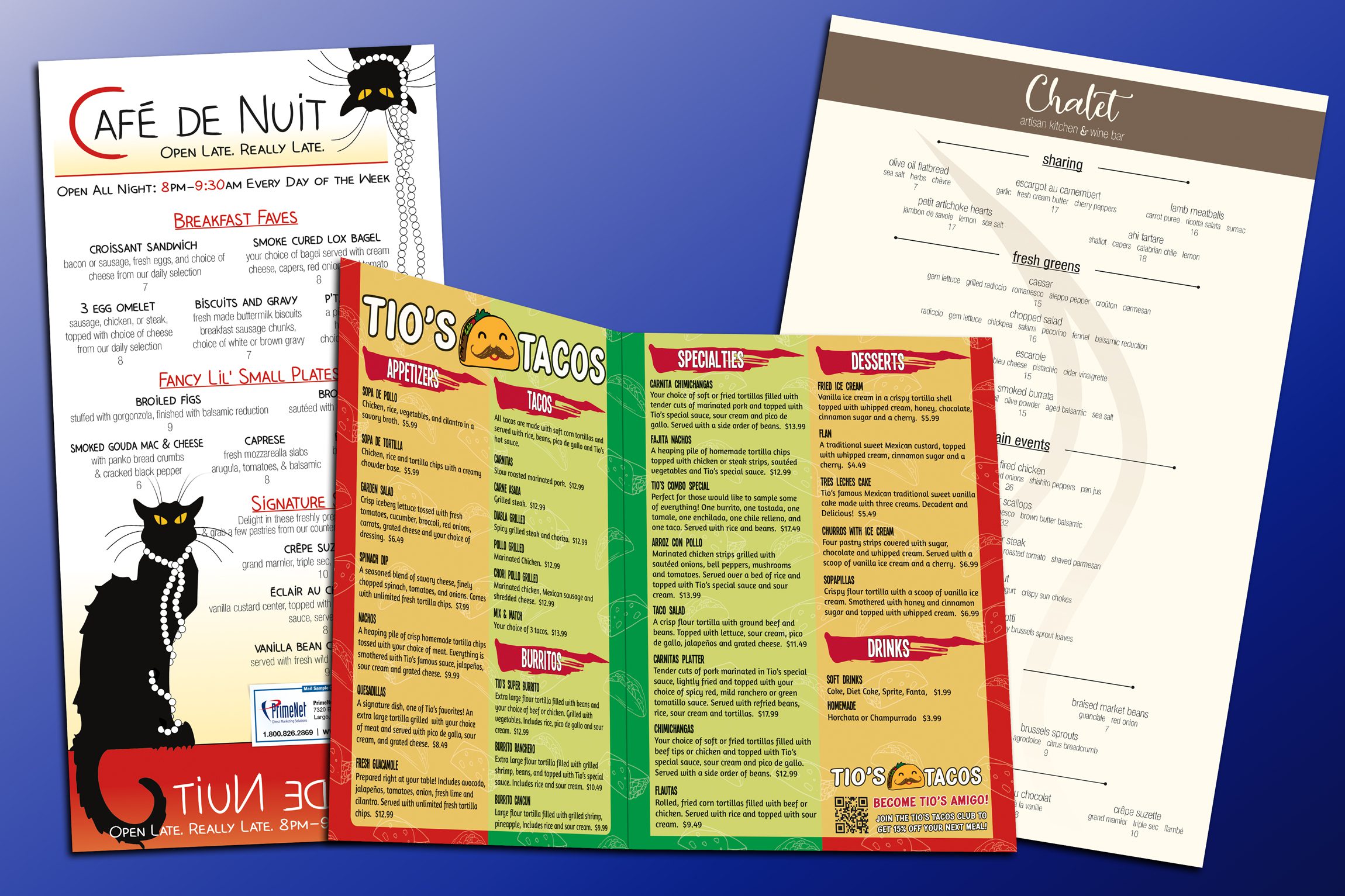 Laminated menus are beneficial for cleanliness and re-usability.
Door Hangers
Another product that is useful for quick and easy marketing is the door hanger. These can be left on potential customers' doors to let them know about the Super Bowl themed specials that you are running! These are particularly handy in apartment complexes and condos because you can access so many people in such a small area. Another way you can use this promotional product is by partnering with a local hotel! There will be plenty of people that are traveling from out of town to come to the Super Bowl LV. A lot of these football fans will be staying in hotels. Make sure to get the hotel's permission, of course, but then hang a door hanger with your business's information for all of the out of town guests to see!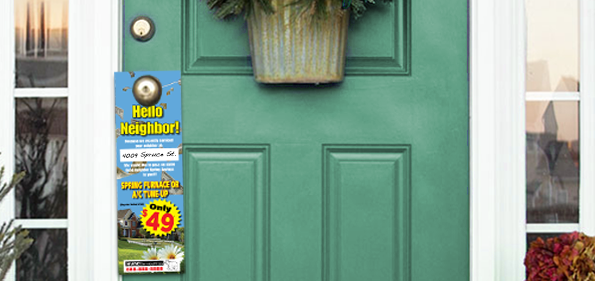 Direct Mail
And last, but certainly not least, direct mail! With direct mail, you can target an audience that you'd like to receive your mail, so that you are most likely to be matched with consumers that will respond! PrimeNet has a plethora of unique direct mailers that you can send to really make your business pop! For example, check out the postcard below! The football folds out, to reveal a message underneath. Little things like this make your business stand out compared to the rest.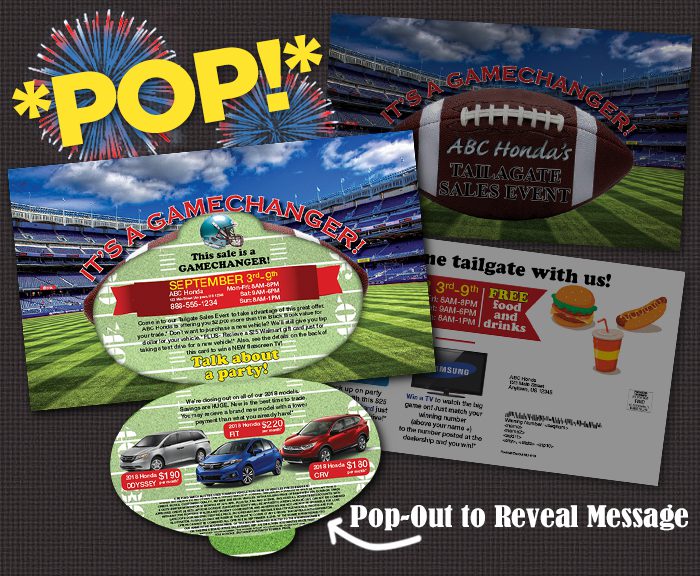 Call us today at 1-800-826-2869 to get started! PrimeNet is sure to help your business score a touchdown with our great promotional items. Everything you've seen here – postcards, flyers, menus, door hangers, and direct mail are all things we would love to be able to help you with. Hurry, time is almost up!
Want to see our great products first hand? Click the button below!

(Clicking the "Request Samples" image should open your default email client.
If it does not, please use the contact form.)
Interesting info? Share it!