Celebrate your special deals this Memorial Day with a brand new take on your direct mail campaigns!
As the unofficial start of summer, Memorial Day is full of opportunities for enterprising companies to turn a profit. Your marketing strategy plays a major role in the success of your sales, kicking off with Memorial Day weekend.  This year we at PrimeNet are highlighting three newly re-designed products that have produced proven returns for our clients' customer base.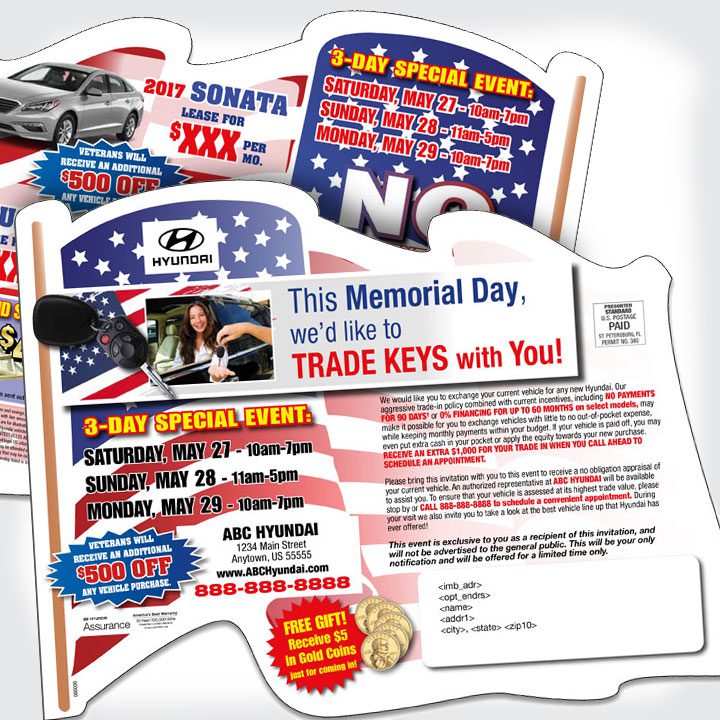 This 11″x8.5″ Die Cut Flag really stands out in the mailbox because of its unique flag shape. This piece is printed on heavy stock, 4 color, 2 sides and can be inserted into a 12″x9″ full window envelope.

---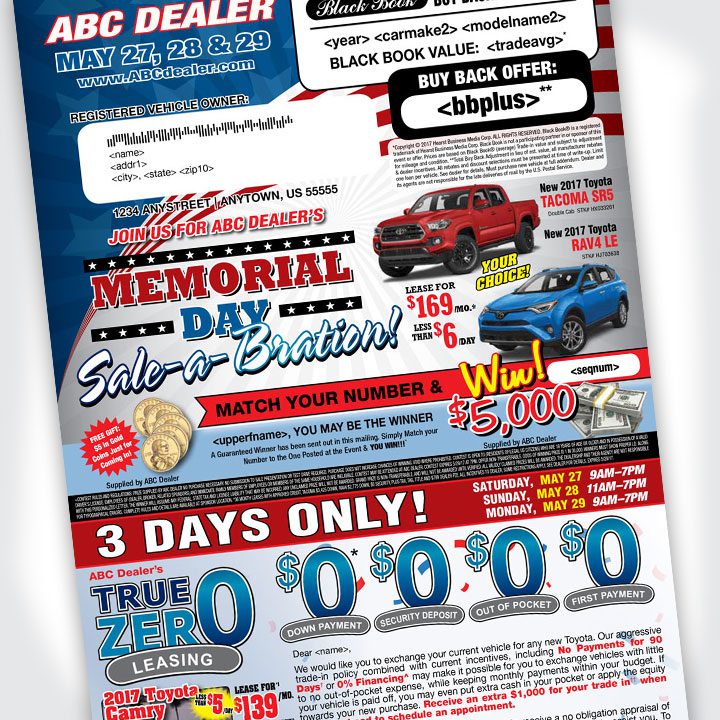 Memorial Day Letter

The classic 8.5″x14″ letter is a tried and true approach for getting customers into your business. Mailed with a simple, yet official looking #10 window envelope, this is certain to get opened.
---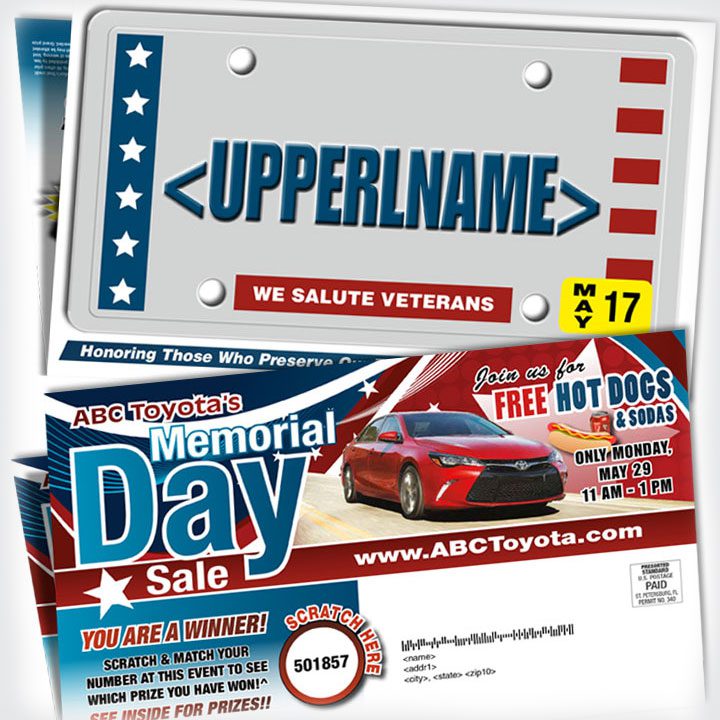 License Plate Mailers can be customized for any state or region. People love seeing their name, and when it's BOLD on a 10″x12″ license plate with a great message, that increases the chance they'll come to you.

---
---
Some news you can use:
To help you increase your chances of success, here are Four Marketing Tips for Memorial Day:
1. Start Your Marketing Early
Many companies wait until the weekend before Memorial Day to begin marketing their special sales. You can get a jump on the competition by beginning your direct mail campaign several weeks early.  Be the leader of the pack and send your direct mail piece to your customers two to three weeks before Memorial Day.  Start marketing early, and by the time your competition unleashes their campaigns your customers will already be sold on you.
2. Get Free Publicity
The true meaning of Memorial Day is, of course, to remember and reflect on all of those who have given the ultimate sacrifice for this great nation. To express your gratitude and honor their sacrifices, offer an additional incentive specifically for veterans, or host a special cookout honoring our heroes. When you set out to benefit the community, your community will in turn benefit you.
3. Honor the Fallen
Research has identified that many people are inclined to buy from those they feel are similar to themselves, and on Memorial Day the vast majority of Americans pay some homage to our patriotic heroes who had sacrificed their lives to help us to breathe the air of freedom. When you do the same, you establish yourself as a credible company that shares values with your customers. Don't forget to incorporate a few words in remembrance and gratitude on every marketing material you print.
4. Be Creative with Your Design
Most everyone will have red, white and blue marketing materials for their Memorial Day promotions, and it's likely you'll want to include the same colors in your direct mail piece. Stand out from the crowd and use our Custom American Flag Die Cut Mailer, Memorial Day Letter or License Plate Self mailer to make your printed piece get noticed!
Every year, Memorial Day is one of the best-selling weekends for businesses across the country. You can use custom mailers as an effective way to brand your company and products. Use custom die cutting with your printing to make your special offer stand out and get noticed. This eye-catching direct mail builds excitement and increases response to earn you a higher return on investment. Our dedicated design team at PrimeNet can customize your contents any way you would like, for any industry, to meet your specific marketing needs.
Call PrimeNet today at 1-800-826-2869 for more information and value direct mail pricing! 
Interesting info? Share it!