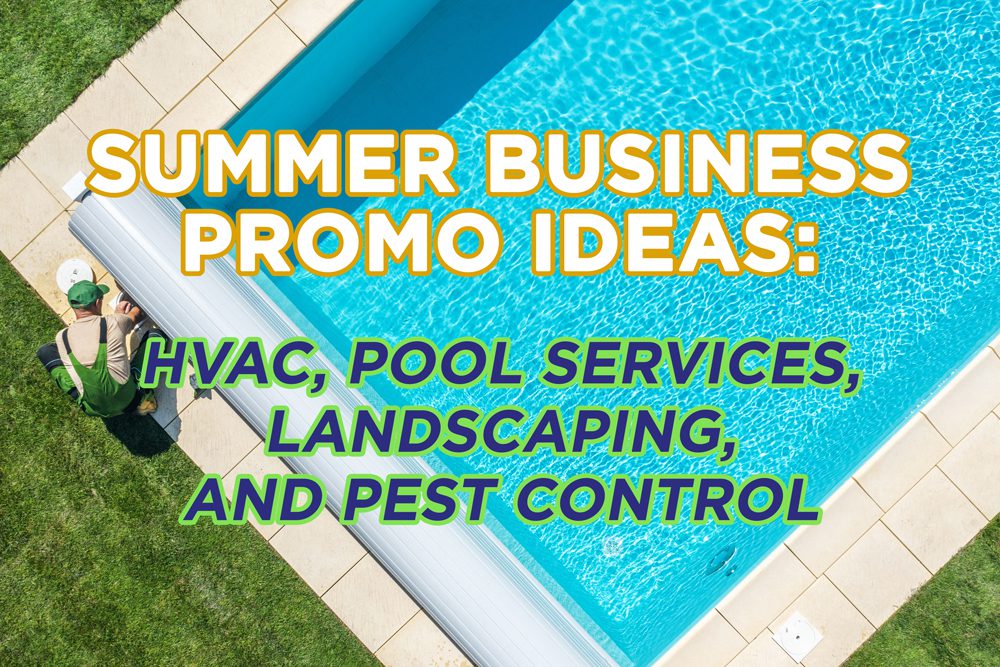 It's officially summer time and that means it is getting hot in here! But that's okay – we've got some marketing tips to help you keep your cool regarding your business this summer season. Whether your business offers HVAC, pool, landscaping, or pest control services, there are some simple steps you can take to ensure that you have a profitable summer advertising plan in place. Companies in the heating and cooling, pool service, landscaping, and pest control industries are often small business. Unfortunately, small business tends to come with a smaller marketing budget. But that's okay! Below are 6 tips to maximize your advertising budget and increase sales during this time.
1. Choose a Strong Offer
In order to incentivize a potential customer to use your HVAC, landscaping, pest control, or pool service company, you have to offer them something special! The easiest way to do this is by offering them a special offer via running a promotional price or giving them coupons off of specific services. Make sure that your call-to-action is the highlight of your message. What do you want your customer to do? What is your goal of sending this message out? If you want to get more tune-up appointments, offer a tune-up special. If you want more people to sign up for your pest control maintenance plan, offer a one-year special pricing plan.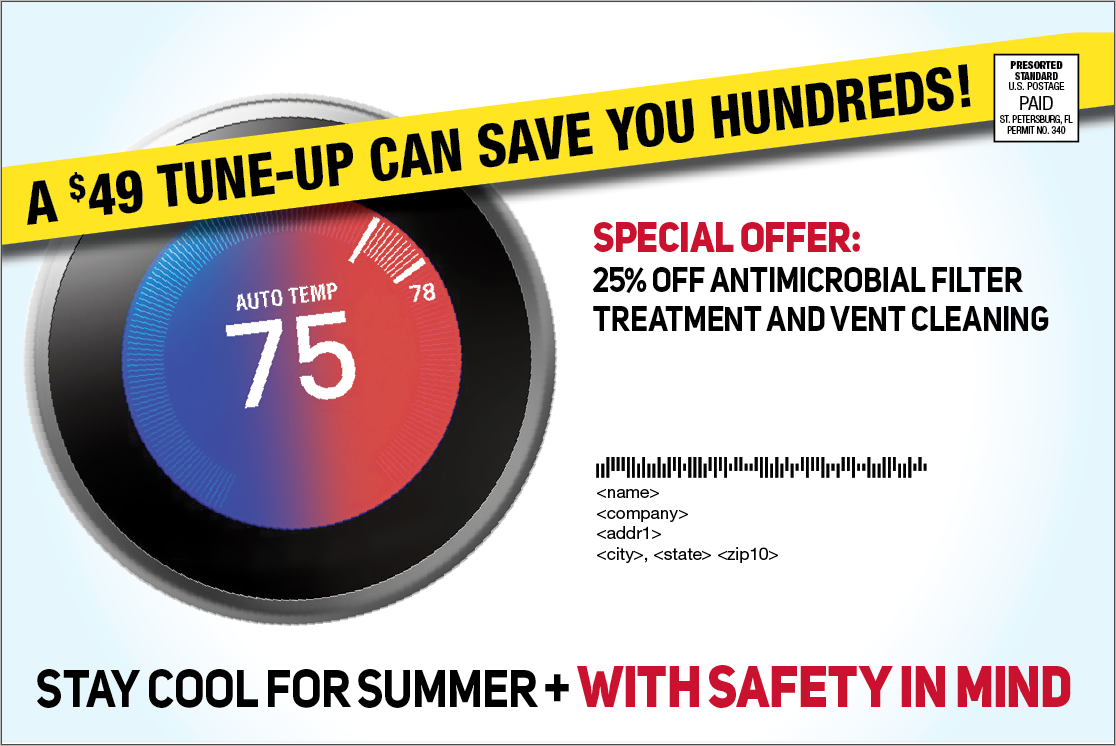 2. Stand Out From the Crowd
Make your design unique from the competition. Create a stunning, eye-catching design that will make the reader pause a moment and take in your message. It's also important to use the proper images, fonts, and call-to-action.
For more tips on creating great marketing material, check out our other blogs, Six Things That Should NOT be on Your Direct Mail Postcard and Don't Lose Your Message in a "Pretty" Design.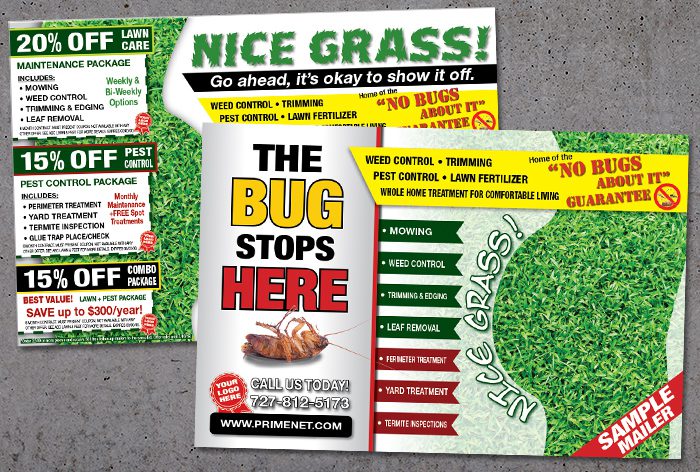 Another way you can stand out is by having a design that is different than just a typical postcard offer. Direct mail comes in all shapes and sizes! For example, PrimeNet offers postcards, letters, self-mailers, checkbooks, uniquely shaped die-cut designs, magnet add-ons, laminated postcards, and sticky notes. To see a variety of examples we have to offer, click here.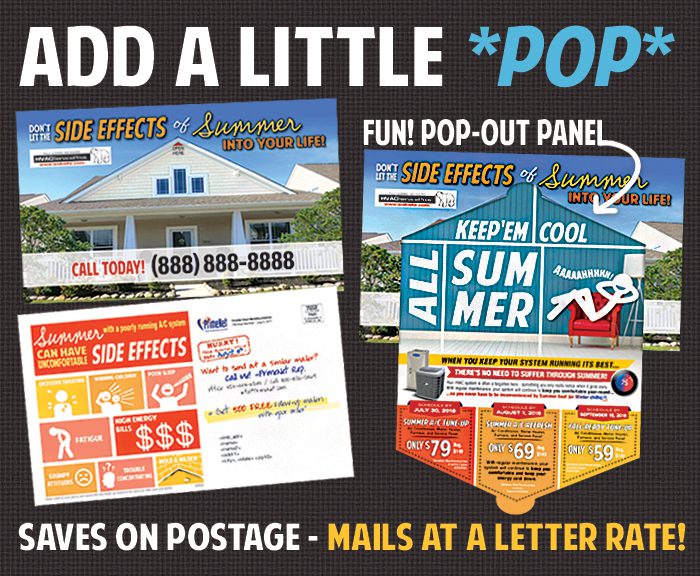 3. Utilize Multichannel Marketing
If your budget allows, advertising your small business with more than one channel is a great way to better target your audience. The more brand exposure you have, the more you'll be recognized as a credible business. Look into direct mail marketing campaigns, radio ads, tv commercials and social media campaigns. Receiving a postcard in the mail from your company and then later seeing your post on their social media feed will help cement your business in your customers' minds. Social media also allows you to grow your audience because if someone interacts with your post, their social network may also see it. Try keeping social media designs simple and trendy. Be careful of not being too text-heavy. Using a funny graphic is a great way to encourage people to interact with your post.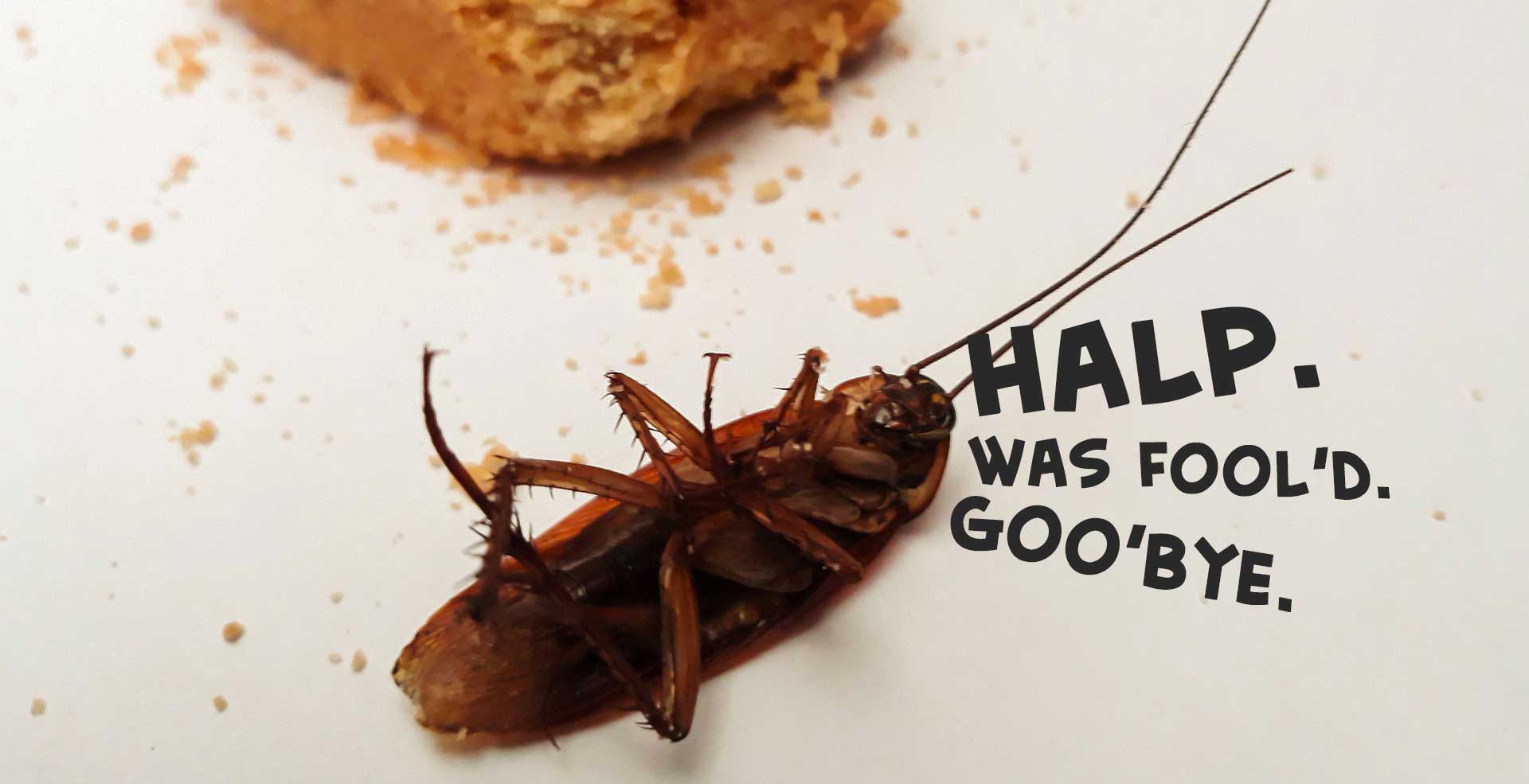 4. Use a Customer Referral Program
One of the number one ways of attracting new customers is by word of mouth. Offer incentives to your current customers to refer their family, friends, and social network. You could offer them money off of their service if a new customer mentions their name or enter them in a contest when they allow you to put a promotional sign in their yard. You can also host a giveaway on your social media page and encourage your customers to share it on their pages.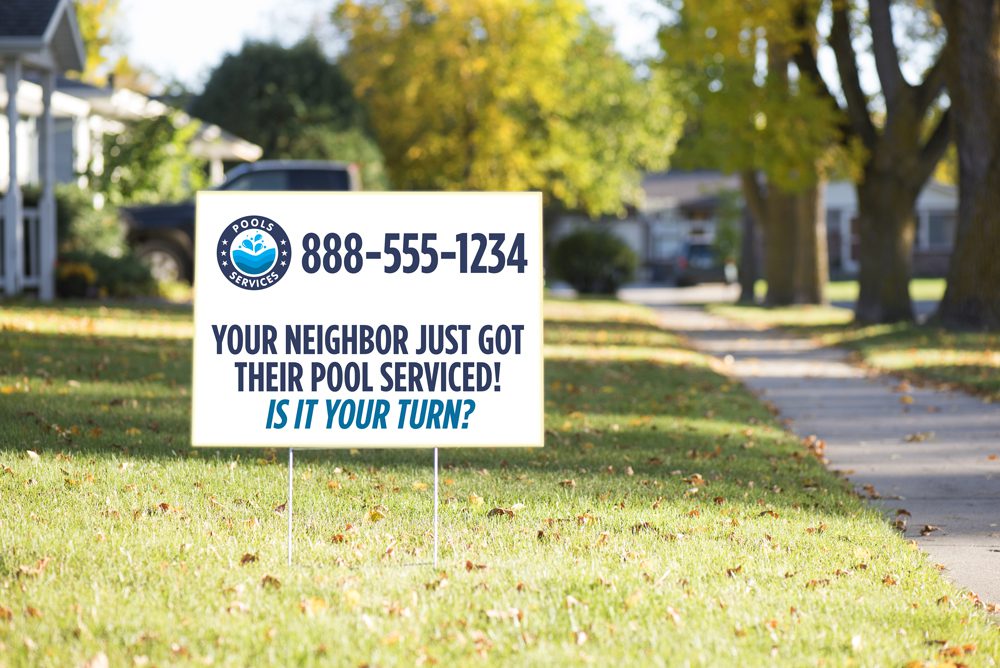 5. Offer a Subscription Discount
Getting a customer to call you once is great, but the real value is in having a REPEAT customer. Create a customer who is loyal to your business. For example, an HVAC company can offer a one time tune up special or can offer a bigger discount if a customer signs up for a one year contract. This will also ensure that if the customer has any emergency needs, that they call YOUR business over someone else. It's great if a pest control company can get a customer to book an extermination, but it's better if they can sign them up for a yearly plan to come out multiple times a year for preventative services.
6. Repetition is Key
We recommend targeting your prospective audience at least 3 times. Seeing your marketing message multiple times will build your credibility and show that you are a trustworthy, stable business. It will also simply familiarize your audience with your brand and make it more likely that they will call you when they need you. If your pool pump goes out, you are much more likely to call the company that you've seen a few times than a company that you've never heard of. Often, the day that a potential customer receives your first marketing message isn't going to be the time that they need your services. Oftentimes in the HVAC, landscaping, pool, and pest control industries, customers are only calling when they are having an issue that needs to be fixed. You can't always predict when that will be. Getting your prospective clients familiar with your small business NOW, means that they will call you when they need you in the future.
Are you ready to start your lead-generating marketing campaign for this summer?
To start your next direct mail campaign, contact PrimeNet today! With a combination of attractive art and a top-notch mailing list, you'll be sure to attract customers in no time!
Call PrimeNet today at 1-800-826-2869 or fill out our contact form here.
Interesting info? Share it!